How Designer Maria Pinto, Favorite of Michelle Obama, Built a Fashion Empire in Chicago
With a fresh new label and storefront, M2057, up and running, the native Chicagoan has just begun to write her latest act.
In our long-running series, "How I'm Making It," we talk to people making a living in the fashion industry about how they broke in and found success.
If you're a Chicagoan with an interest in fashion, you've almost definitely come across Maria Pinto. Since launching a line of intricately detailed scarves in 1991, Pinto's name has been synonymous with the city's established, albeit intimate, fashion scene. When high-profile clients like Oprah Winfrey and, most notably, Michelle Obama came knocking, her national name recognition skyrocketed — but with a large dedicated local consumer base, Pinto, also a native Chicagoan, is one of our own. 
Her 30-plus-year design career has been long and varied. After attending fashion school, Pinto first worked as an assistant to Geoffrey Beene, a storied womenswear designer and longtime favorite of the CFDA. Upon returning to the Midwest, Pinto launched her own brand and oversaw the opening and closing of her own high-traffic Chicago boutiques, including locations on Michigan Avenue and in the West Loop; in 2010, two years after the First Lady wore one of her pieces to the Democratic National Convention, Pinto shuttered her storefront and announced plans to take a break. 
Now, it's time for her next chapter. In November, Pinto launched her latest ready-to-wear venture, M2057, with the help of a wildly successful Kickstarter campaign and with full-fledged seasonal collections in the immediate pipeline. M2057 has already begun to pick up steam locally, and it's no wonder why: Pinto created the brand to directly cater to professional women and the busy, multitasking lives they lead. Each piece is machine-washable and made from a heavy, elastic material, almost like neoprene, which, I'm assured, remains completely durable even throughout the longest of business trips. The price points, largely under $500, are more reasonable than her previous endeavors. Everything is intentional and representative of how women both shop and get dressed today.
I spoke with Pinto at her just-opened M2057 storefront in Chicago's West Loop about the many stages of her career, empowering women through design and, of course, that time Mick Jagger wore one of her pieces on stage.
Were you always interested in fashion?
It started with Women's Wear Daily. I was in eighth grade. Our neighbor's son was a model, and [his mom] knew I was interested in fashion, so she shared her paper with me and occasionally there would be a picture cut out of it because of her son. Then it began!
I always really liked art. Fashion, to me, was an extension of my artistic interest in terms of having something on the body and it being three-dimensional in the movement, as opposed to a still life or a sculpture.
Did you go to fashion school?
My main study was at the Art Institute [of Chicago], because I wanted to be able to study both fashion and art. Then, when I worked in New York with Geoffrey Beene, I took some night and weekend courses at Parsons and FIT. There was so much to learn. I took a beading class; I took screen-printing; I took life-drawing. I had an interest to cultivate my skill.
Tell me about working with Geoffrey Beene.
He made me really appreciate so many different aspects of designing. He was an absolute perfectionist — the cut, the fit, the fabrics. I learned so much about fabric. I've always been a fabric junkie. And he had a very commanding presence. You never said Geoffrey; it was always Mr. Beene. It was a very formal, serious environment.
And what brought you back to Chicago?
A relationship. Let's cut to the chase. [Laughs] I think it was a little bit of that, but there was some sense that there was more I could achieve. I came back in 1991 and I started in accessories, meaning beautiful scarves and wraps that were very elaborate and embroidered and beaded and all hand-done by yours truly. What I didn't realize then was that 1991 was the tipping point of the pashmina craze. I was so lucky. My first client was Ultimo in Chicago. At that period of time, Ultimo was considered one of the most important stores in the world. As soon as Ultimo was cemented, I was in Bergdorfs, Barneys and Saks. Two or three years later, I started doing 1920s-type slip dresses to go with the wraps, which I did for four seasons or so, and then it just kept progressing. Up to that point, I was mostly doing evening, but in 2004, I started doing day pieces. And then Michelle Obama became a client, so it was a very natural progression.
I couldn't do such a minimal collection now if I hadn't done all that. Some people ask, "Don't you miss all those beautiful fabrics?" No, I just go in my closet! I've already done that. To me, it's an evolution.
How did you get into those impressive retailers in the beginning?
I started by researching stores in Chicago and the surrounding suburbs, and Ultimo was my first store. I was doing all wraps at the time, so I shot them on a model, Eleanor, and I made this beautiful lookbook. I look back on it and I'm like, "Seriously? You sent that to Bergdorfs?" But I had already sold Ultimo, and the wraps were really beautiful pieces. They fit a need. I didn't have too much of a problem. And then if you have the good fortune to open those accounts, everything else follows.
For an up-and-coming designer, which would you say is more important: big department stores or smaller boutiques?
It's a really different time than when I launched. I'd probably say blend the two, because the problem with big stores is that they own you, in a sense. If they have a slow sell-through, they're going to expect you to either take product back or give them markdown money back. If I was to do wholesale again, which we may, I would blend it between specialty boutiques and large stores. The expectations are quite different. The boutiques take ownership. If the style's not selling well, they're going to come to you and ask, "Would you work with me on it?" whereas the department stores are like, "If you don't work with me on it, you're not going to see another order." It's kind of unspoken.
You've worked with a number of high-profile clients, most notably the First Lady, as you mentioned. What is that process like?
Well, fortunately, she wasn't the First Lady when I met her, so it eased in. I first knew her when she was a senator's wife. She was lovely and very down to earth, so she made it easy.
I've been very lucky with the celebrity clients I've had. I didn't seek them out. I'm kind of proud of that. Mick Jagger once bought a scarf! He was at Ultimo and bought one of my crazy wraps and wore it performing at Soldier Field.
I've worked directly with some of them and others have been through a store, and they've all been really lovely people. They haven't been demanding. Of course, there were the pieces I did for a few clients that were custom, but by and large they were shopping from the collection. I have to always remind myself they're just people. They're just like you and me.
Two of your pieces appeared on "Empire"'s finale last season. How did that come about?
That came through Fox. They were looking for someone in Chicago; they were filming here and had heard about the collection. It was really fun. The two characters Rhonda Lyon and Boo Boo Kitty were really owning their roles as women — powerful women — and that's what I want this brand to be about: empowering women.
How do you translate that message of empowerment into your designs?
There's a part of fashion that I find really contradictory to the empowerment of women. We all get up in the morning and have a million things to do. We don't have an unlimited amount of time to spend standing in front of a closet, and that frustrates me. I'd like to think our pieces are really well thought out and we style them in a way that makes them clear to understand, to take them from day-to-night for all different lifestyles.
Where do you see yourself and your business in three to five years?
In three years, I'd say we'll be in a ton of stores — and I'll be on a beach. [Laughs] I think we're going to expand nationally. If it was up to my COO and me at the moment, we'd be in Rome, but that could be in the future. 
Click through the gallery below for four looks from M2057 by Maria Pinto's pre-spring 2016 collection, exclusive to Fashionista.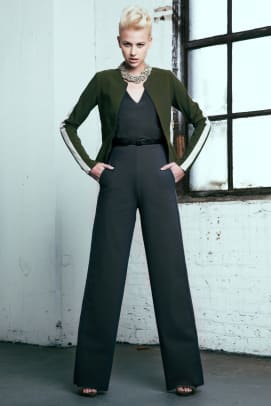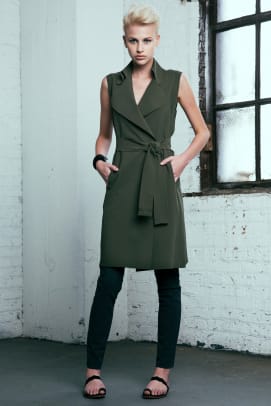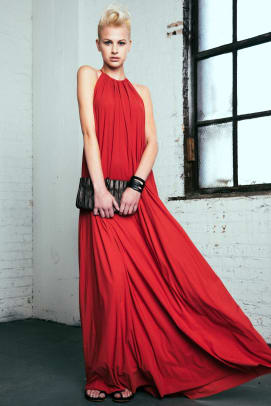 This interview has been edited and condensed.