Valentino Adds A Byzantine Touch to its Magical, Medieval Couture Collection
All the models were barefoot and wore gold snake headpieces.
Valentino designers Maria Grazia Chiuri and Pierpaolo Piccioli have looked outside Italy for runway inspiration as of late — notably for the "Africa" themed spring ready-to-wear collection, which, while extremely beautiful, resulted in some less-than-considered cultural appropriation in terms of its hairstyling and ad campaign setting. But for the Italian house's spring 2016 couture collection, the designers turned to another rich chapter of Roman history: the Byzantine Empire. That is, the eastern part of the former Roman Empire whose capital city during the Late Antiquity period was modern-day Istanbul. 
In a release, the brand said the designers were specifically inspired by early 20th century Spanish designer Mariano Fortuny's mix of Eastern Byzantine and Western classic aesthetics in his work. Indeed, the "Game of Thrones" enchanted medieval vibe of the sweeping, regal gowns they delivered for fall 2015 couture is amplified here by textured velvet, multicolor patchwork, embroidered tulle and printed chiffon. It's gilded and vibrant and airy and full of mosaic-like patterns. All the models were barefoot and wearing gold snake headpieces, and many wore large circular body chains. "A purified orientalism finds its balance with kimono-style coats," wrote the brand on Twitter — reminding us that "oriental" doesn't have the academic connotation it used to have, but okay. The result is still a series of magical, powerful, feminine dresses that a mythical queen might wear (albeit one comfortable with a sheer bust). Or, more realistically, an Oscar-nominated actress. 
See the full Valentino spring 2015 couture collection below.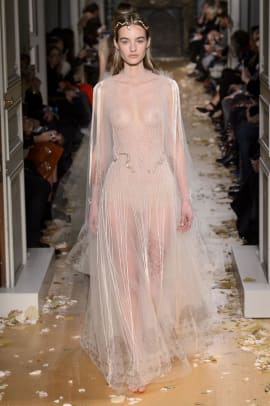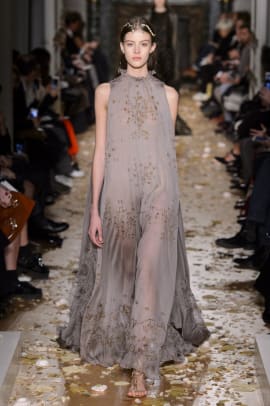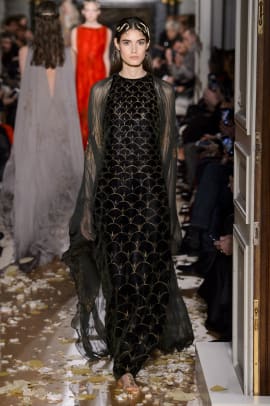 Stay current on the latest trends, news and people shaping the fashion industry. Sign up for our daily newsletter.