Phillip Lim Delivers An Army Of Strong Women in Serene Silhouettes
Who knew socks and sandals could be so assertive?
The 3.1 Phillip Lim fall show began with thunder. A rail of lights above the runway flickered in time to a soundtrack of roaring and crashing bass, which continued at a steady pace as the models flew past unencumbered by the hair hanging in their faces. 
With 10 years under his belt, Lim has become known for pushing his vision forward while staying in his zone — luxurious, contemporary clothing for the busy, modern working woman. And while this newest collection was feminine and sophisticated, even with its many masculine silhouettes, a toughness permeated in details like a row of wide metallic staples joining seams, dangling straps off kimono-style jackets and coats, animal skin fanny packs, densely pleated metallic skirts and tops, and boots that look like velvet socks worn with matte leather mules. Even thick beaded socks worn with sandals felt assertive. 
Lim presented several strong suiting options in pinstripes, mismatched tweed, burned out jacquard and rich orange velvet. The pant legs were wide and the overall look was boxy, but not too much as to override a general sleekness. But the real standout might be an asymmetrical belted tunic that popped up in several different forms — a dress with a higher neck, another combining a palm pattern and velvet, a mixed print shirt — that looked even better from the back. It was loose but accentuated the hips, modest yet revealing (thanks to a sheer panel at the neckline) and versatile yet distinctive. 
The piece was a prime example of the "dose of youth and glamour" mentioned in the show notes, which said the collection was inspired by the mindset "life as your stage." But as the thunder served to indicate, Lim's stage isn't a fairy tale — it's an industrial runway for an industrious woman.  

See the 3.1 Phillip Lim fall 2016 collection below.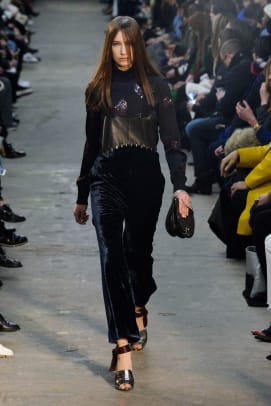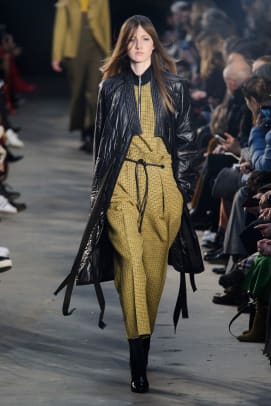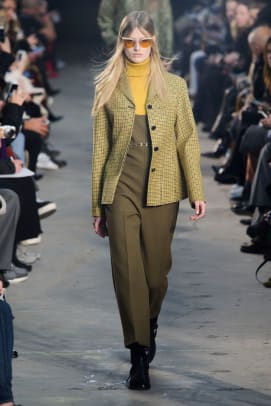 Homepage photo: Imaxtree