A.P.C. Founder Jean Touitou Thinks 'See Now, Buy Now' is a Trick for Press
French brand A.P.C. made a special trip to New York to show its latest collection and to debut a new collaboration with similarly low-key activewear line Outdoor Voices.
For the first time ever, French brand A.P.C. eschewed Paris Fashion Week for a presentation in New York. As a bit of an A.P.C. obsessive who had fantasized about experiencing one of these presentations, during which models come onto a stage in groups while the ever-quotable Jean Touitou talks attendees through the collection, it was an exciting moment.
The decision to show in New York made sense from a commercial perspective. A.P.C. has had a retail presence in the city since opening on Mercer Street in 1993, and it's opened a number of stores both here and in Los Angeles since. The show also coincided with the launch of a collaboration with New York-based activewear brand Outdoor Voices, in which A.P.C. is also an investor.
The result was just what we expected back when the partnership was announced: activewear for people who don't really like activewear. It looks like stuff you could actually work out in (though the jumpsuits are something I'd have to try on to determine this), and the pieces are a chill, not-annoying alternative to the ubiquitous athleisure trend. A.P.C. founder Jean Touitou insisted on styling the activewear looks with elements of regular daywear, like a khaki trench and leather boots or oxfords. It worked.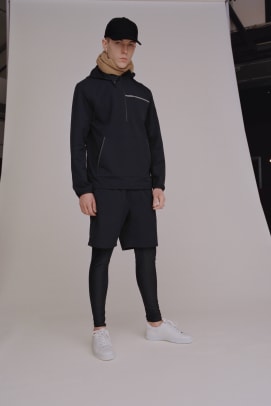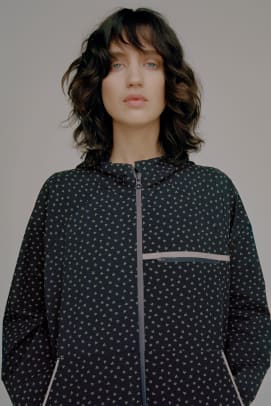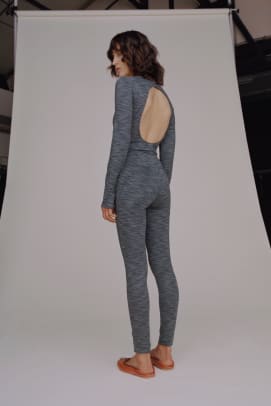 As for the A.P.C. fall collection, it was unsurprisingly all about wardrobe pillars like merino sweaters, trench coats, versatile jumpsuits, substantial midi-length skirts and cropped jeans to pair with '70s-inspired boots or socks with sandals. Aside from the lack of diversity in his casting, I had no complaints.
After hearing his thoughts on white socks ("sexy"), revolutionary fashion (this is not that) and why he insisted on styling the Outdoor Voices pieces with leather shoes ("I'm a bit sick of the look of yoga pants and sneakers. I think it's, like, too much."), I got a few minutes face-to-face with Touitou to discuss why Outdoor Voices was a good fit for a collab, the key difference between American and French style, and how few fucks he gives about the fashion calendar — particularly the "see now, buy now" concept.
So what brings you to New York? You mentioned during the presentation it had to do with the Outdoor Voices collaboration.
It's more convenient for holidays.
Oh, it is?
When you show in Paris you can't take the holidays with the kids... but that's almost a joke.
Only almost?
Only almost, but it's partly the truth. No, I did it because it's new energy, working with Outdoor Voices, and I think it's good to show in New York.
What was it like working with activewear?
I always have this in me. In the beginning, there was a lot of sleepwear in A.P.C., which I stopped, and then I discovered these guys. Since they were teenagers they were A.P.C. fans, and I go in their studio and I see all the colors I work with [at A.P.C.] so it was very natural. And if you want to do something sporty, you better work with the people who have the expertise to do so. There's nothing worse than couture people trying to do a jean, for example. Jeans should be done by people who know how to do jeans; sports items should be done by people who know about it.
What do you think separates New York style from Paris style?
I think the main point is New York women, they have a checklist and it's too perfect, whereas I love when the French, they have something uneven. Here, it's like, 'Nails? Check. Best shoes? Check. The bag that nobody has yet? Check.' It's not natural.
In New York, a lot of the industry is preoccupied with whether the fashion calendar makes sense, and some designers are switching their shows to present, say, spring in February. What do...
Whatever they're doing I don't care. It doesn't matter really. I mean, what's the big idea with this thing? They have no idea what to talk about.
[See now buy now] is a trick for press. The big houses, they are totally disorganized, they don't know how to take risk, they are too big. It will happen one season, two seasons, they will have a lot of leftover stock and then they will switch to another idea. I swear. Believe me.
Browse the A.P.C. fall collection below and the Outdoor Voices collab above.