Former Reformation Designer Brianna Lance Debuts Menswear Brand Basic Rights
Inspired by iconic male figures and their wardrobes, Basic Rights offers classic pieces for cool dudes.
By tapping into the wardrobes of male style icons like Paul Newman, Steve McQueen and Muhammad Ali for inspiration, Brianna Lance, who formerly held the title of head designer at Reformation for five years, created the menswear brand Basic Rights. Its core collection of nine styles launched on Monday with an intimate presentation at the legendary Electric Lady Studios in New York City's Greenwich Village. The chosen music venue is no coincidence: Lance's business partner Freddie Cowan is a lead guitarist and vocalist for The Vaccines, and last year, Lance's first foray into menswear was designing clothes for the UK four-piece's tour. "I never really thought about dressing people who aren't necessarily like me," says Lance. "So having to research and think about what boys want, and how they shop, was an amazing new project."
"All of the guys I know would go to one place for pants, another place for a sweatshirt and another place for a T-shirt," she continues. "We just want one place where men could get all of the building blocks for their wardrobe without having to worry about hunting them down. We want to make it easy. There are no complications to the styles. It's just really simple and minimal." The debut collection includes key pieces that are stripped of bells and whistles to their most simple shapes. When designing the Basic Rights denim jacket, for example, Lance opted out of adding gussets and paneling. The crewneck sweatshirt is devoid of on-trend and heritage-style details like distressed hems or the top-stitched triangle traditionally placed under the neckline. (Lace had called it by its correct term, "dorito," also known as a "V-stitch," and this writer will confess that her immediate thought went to Doritos.)
Although Cowan always had the idea of starting a clothing line, it took about a year to get Basic Rights off the ground. After teaming with Lance to spearhead the design — she left Reformation in April 2015 — the two partnered with Dennis Karlsson, who owns the custom motorcycle company Half Caste Creations based in Bangkok. Karlsson sources Japanese fabrics for Basic Rights and oversees manufacturing by a husband-and-wife-owned factory in Thailand. As for perfecting the tailoring and fit behind the collection, Lance was linked with David Chambers, a coveted Savile Row tailor for such English creatives as David Bowie, David Hockney and Terence Conran. The High Waist Trousers, made from durable cotton canvas, are a nod to traditional suiting with an additional, adjustable three-inch hem and metal tabs on the side to pull and cinch at the waist.
The rest of the Basic Rights core collection includes pieces that look like they're from the photo archives of Sean Sullivan's "The Impossible Cool." A short-sleeved T-shirt, made from a slightly thick French terry cotton, will wear (and wash) nicely over time. Sweatpants are inspired by photos of Ali at practice and feature a slimmer cut and concealed pockets. Jeans pay tribute to a pair that Newman would wear and a western shirt was Lance's modern-day version of a favorite vintage style. "I always had a really hard time finding these new because they were always too distressed," remembers Lance. "I had this idea of finding one that existed perfectly." Button-ups are inspired by old work-wear shirts and have the option of a curved or straight placket, while the tunic, made of Japanese oxford cotton, is a collarless button-up in a micro-floral print.
At launch, Basic Rights ranges in price from $45 to $200. In order to keep the quality high and prices affordable, the label is available direct-to-consumer online at BasicRights.com. When asked how the brand will inform its fit-conscious shoppers about its sizing, Lance explains that the website features an intensive chart with conversions and pieces are sized from 0 to 3. Plus, she and Cowan hired their friends to model the clothing, "so people can see them worn on an actual dude." By next spring (that's 2017), Lance plans to expand the collection with more seasonal colors, a slightly thinner T-shirt and additional outerwear. But for now, the line is being kept "super-concise" — basic, really, but in a good way.
Click through the gallery below to see the Basic Rights debut collection.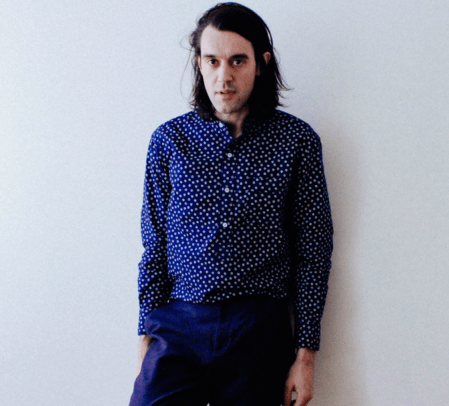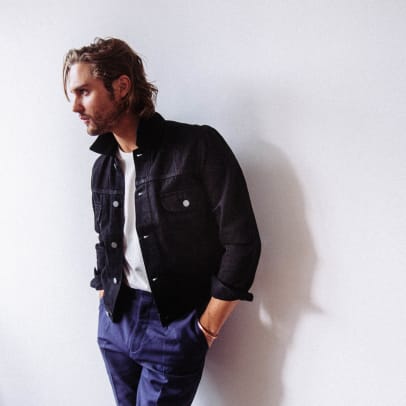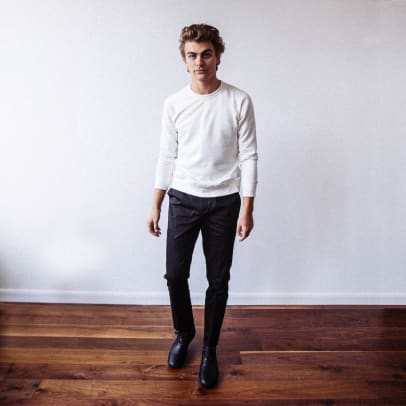 Want more Fashionista? Sign up for our daily newsletter and get us directly in your inbox.