Brandon Maxwell and Lady Gaga Went Straight From the Grammys to His Second Fashion Week Show
They are not bound by the laws of time and space.
Because I am new and naive, I assumed that Brandon Maxwell's second New York Fashion Week presentation would be just like his first in September, when he took over Mr. Chow uptown and staged a runway show for a packed crowd of editors, stylists, designers such as Alexander Wang and, of course, his client and friend Lady Gaga. The pop star's stylist is responsible for her more sophisticated look in recent years, so fans were excitedly waiting outside to see Gaga; meanwhile, on the inside, the atmosphere was loud and bustling despite the tight quarters. As it often happens, Gaga's entrance was fashionably late and heralded by much flash photography. I pushed myself into a crowd watching from the elevated bar on one side of the restaurant, only to realize later that I was amongst Maxwell's numerous family members and basically in his grandfather's armpit. (My annoying behavior did not dampen their enthusiasm for the debut. It was really cute.)
So when Maxwell picked posh The Monkey Bar restaurant to present his fall collection, I assumed the vibes would be similar. I arrived about 15 minutes after the 9 p.m. start time (i.e. right on time in fashion week terms) and immediately realized my mistake. There were no anxious fans outside, and all of the guests were already sitting in the main dining room, politely awaiting the show. Even Lady Gaga was there, front and center, chatting with photographers Inez and Vinoodh. Her bright orange hair was the only evidence of the fact that a mere 24 hours before, she had been across the country performing an intense and exhilarating six minute tribute to David Bowie for 24.9 million television viewers at the Grammys. There were only one or two event photographers, and they didn't dwell on her or anyone else nestled in the booths or seated along what would be the narrow runway: Carine Roitfeld, Stephen Gan, Terry Richardson, Adam Selman, Neiman Marcus's Ken Downing, Estee Lauder's John Demsey, Giovanna Battaglia and Nicola Formichetti were all in attendance. 
After almost a week of highly branded runway shows tailor-made for social media or, at least, conscious of appealing to viewers beyond the physical venue, Maxwell's intimate and quiet presentation felt like something out of the "Twilight Zone." I think it was a combination of the time (people seemed rundown after a packed day of shows) and a blogger-free environment. And before the presentation began, there were a few solid minutes of actual silence. My impostor syndrome was at an all-time high. 
The collection itself was a solid continuation of the aesthetic Maxwell established in his spring collection, but even more well-edited. Every look was all-black or all-white and featured distinctive but simple silhouettes. The suiting options were figure-hugging yet work-appropriate; there were several versatile off-the-shoulder and strapless dresses and tops. Voluminous bell sleeves and wide leg pants brought drama and movement to the simpler pieces, and there were more miniskirt and dress styles than in the first collection. And finally, the closing look was a stunning white jumpsuit with long trains — for the nontraditional and minimalist bride. 
Maxwell had also been in LA the night before with Lady Gaga, a pace he is no doubt accustomed to as her stylist, yet nevertheless made for an insane turnaround time. In a nod to the event, the show opened with David Bowie's "Under Pressure," and I thought of Iman, an early supporter of Maxwell's designs on the red carpet. The upbeat musical mood kept going with Rick James, Mary J. Blige and Reba McEntire — the latter a reference to his Texas roots. 
The Maxwell clan was in the audience once again, and though they looked like they came from different worlds, his southern family and fashion family emanated the same warm pride when the stylist-turned-designer took his final bow. Maxwell's spring collection only just hit stores, but I have a feeling his brand's ability to appeal to insiders and outsiders alike will translate into commercial viability. Lady Gaga's unwavering support doesn't hurt, either. 
See the Brandon Maxwell fall 2016 collection in the gallery below.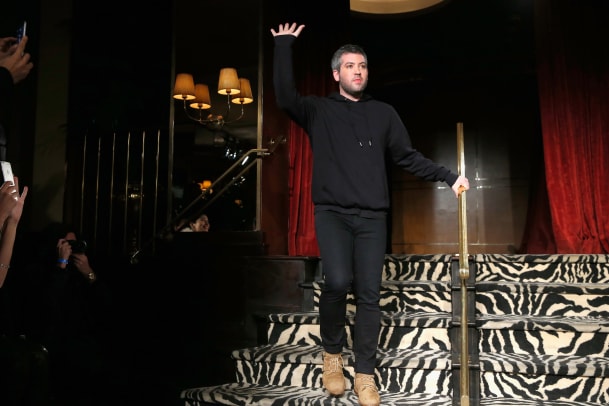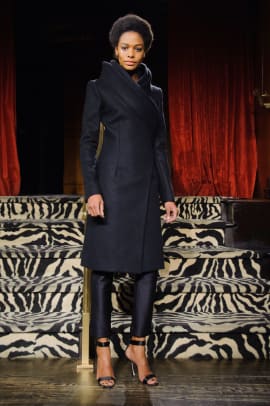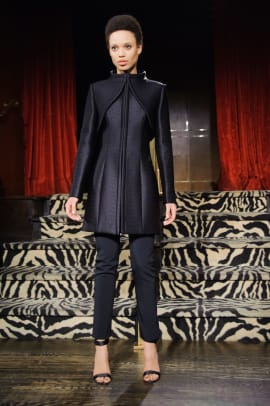 Stay current on the latest trends, news and people shaping the fashion industry. Sign up for our daily newsletter.