Cadet Continues to Develop its New Womenswear Line with Military-Inspired Clothes
The duo behind the brand reflect on their womenswear debut and next season's collection.
If Anna Wintour visits your studio and tells you to launch a womenswear line in only three weeks, well, you do as Wintour says. Such was the case for Cadet, who debuted 13 spring looks for women last September. "We were showing her the men's collection that we had shown two weeks before," remembers co-founder and designer Raul Arevalo. "She asked, 'What are you doing for Fashion Week?' And we said, 'What do you mean Fashion Week? We already showed two weeks ago.' She asked again, 'No, what are you doing for Fashion Week?'"
Arevalo and his business partner/co-founder Brad Schmidt's New York Fashion Week debut received a positive response overall, despite the little time they had to come up with a concept, order fabrics, make patterns and produce a presentation. (Wintour offered a helping hand when it came to handling PR and finding a venue, too.) Luckily, with the duo's women's collection for fall 2016, which premiered on Wednesday morning during New York Fashion Week: Men's, they had much more time to create a collection around the ideal Cadet woman.
"Going into [fall 2016], we're able to develop a more cohesive collection," says Arevalo. But the process of translating a menswear brand into female-friendly pieces does come with its challenges. Most important is fit, both for runway ("less shape, more flat") and retail, which accommodates a variety of shapes and sizes as opposed to men, whose fit is more straightforward, according to Arevalo. Another example is listening to feedback, such as adding (or not adding) decidedly feminine touches like silks and florals, while maintaining Cadet's military-inspired aesthetic. 
Upon visiting the Cadet studio prior to the runway show, Arevalo had a small collection of imagery to serve as his mood board, if you can call it that. His creative process usually involves a single image and idea for inspiration. For fall, it's an old photo of a West Point cadet from 1908, his uniform a long and lean silhouette. "We do not want to be a literal 'military'; we want to be inspired by it," explains Arevalo. "People try to think it's a trend but it's not. As long as I remember there's military every single season. I think everyone is inspired it." Morse code contributed to the collection, too; its dots and dashes symbolized the brand's play with length and proportion — a cropped jacket with extra long trousers that hit right at the floor and coats that stop at mid-calf.
A fall collection wouldn't be complete without a selection of knits, which Cadet created from mohair, merino wool and cashmere. Open-weave midi-dress sweaters were layered over pants, while a knitted capelet served as the brand's alternative to a scarf. Considering Cadet's feedback, florals didn't make it into the collection, but silks did in the form of an aviator-style dress that could be worn open like a lightweight trench coat. Jumpsuits have become a signature sweet spot for the brand and two types walked the runway, including an iridescent cotton version in aubergine and a navy checkered jacquard jumpsuit with a deep, open front.
Because Cadet was a 2015 finalist for the CFDA/Vogue Fashion Fund, the brand's spring collection will be available exclusively at Amazon Fashion this month. Next week, Arevalo and Schmidt will present their most recent women's collection to retailers and press while they're in town for New York Fashion Week. And with nearly seven months at the team's disposal to conceptualize and produce a spring 2017 collection, Cadet has plans to show the men's and women's lines separately at each respective Fashion Week.
As for the Cadet girl, she's still, and understandably, a work in progress. "It took us a while to develop our men's line," admits Schmidt. "And once we find the Cadet girl, we'll change together, too. That's what brands do, right? You have your core customer and you take them with you as you move and grow, but you still need to have a place where people can be introduced and grow with you as well."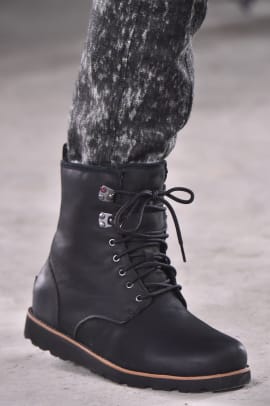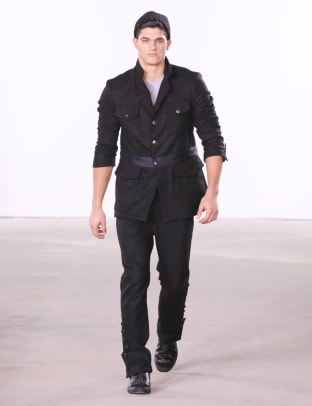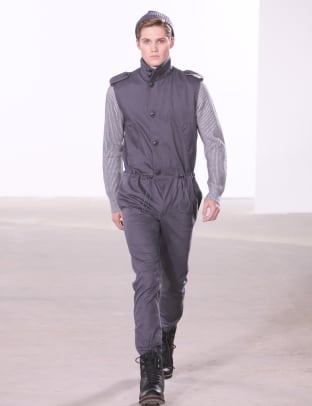 Want more Fashionista? Sign up for our daily newsletter and get us directly in your inbox.