At DKNY, Dao-Yi and Maxwell Claim Ownership of Logomania
For their sophomore DKNY collection, the design duo continue to explore their idea of the legendary New York label.
As we took our seats at Dao-Yi Chow and Maxwell Osbourne's sophomore effort for DKNY, there was a palpable sense of anticipation for what they would do next. At least for those who could get their minds off of the '90s hits that were blasting throughout the Skylight Modern venue. The girl groups of that era — SWV, TLC, K.P. and Envyi, among many others — and their signature tomboy style is what the duo took inspiration from for fall. And it was clear as models like Ruth Bell, Stella Lucia and Taylor Hill walked down the runway in puffy bomber jackets, track pants and overalls.
Though, the show began with the pinstripes we saw at Chow and Osbourne's spring show — only this time the aesthetic was less corporate and more street smart (in other words, a cooler and clearer take.) Deconstruction continues to be a running theme, too. Slip dresses were modernized with open lacing details or bias cuts. An update on the power blazer included a cropped style layered over a shredded, sleeveless top. A white button-down shirt was cut-up, re-draped and asymmetrical. Although Chow and Osbourne are still figuring out who their DKNY girl is, we're enjoying the journey.
The designers turned logomania on its head as well. In the show notes, they wrote that they were "admiring how much of a thing [logomania] is over 25 years later," adding, "we own that" and "DKNY started all that" in 1989. At a time when the fashion set has wholeheartedly embraced Vetements graphics, Supreme box logos, Nike swooshes and even Thrasher flames, while other New York designers have begun peppering their fall collections with logos, Chow and Osbourne provided their own tongue-in-cheek response. Pieces were adorned with multiple phonetic spellings of DKNY or an "insert logo here" visual or pseudo-filename copy that read "dkny-logo-new.jpg."
A longer-than-usual pause between the last look and the finale turned out to be worth it when models made their final lap donning graphic sweatshirts that said "DON'T KNOCK NEW YORK," "DESIGNERS DON'T KNOW YET" and "DAZED KIDS NEW YORK," all plays on the label's acronym. It was a fun, social media-friendly way to end the show that also paid tribute to the brand's (and the designers') city roots.
As the show wrapped up and everyone made their exit, a throng of photographers surrounded a trio of models dressed in the aforementioned sweatshirts on the corner of Ninth Avenue and West 27th Street. (According to DKNY, they're a limited edition release that you may be able to own yourself.) As the models made their way through the camera-heavy crowd, a mother passed by with her young backpack-toting son. "It's Fashion Week!" she yelled. New Yorkers know what's up.
Click through the gallery to see DKNY's fall 2016 collection below.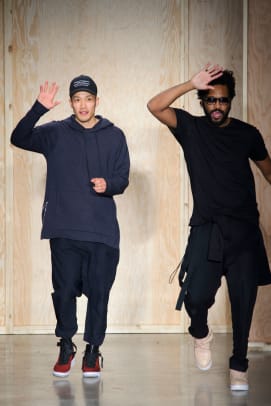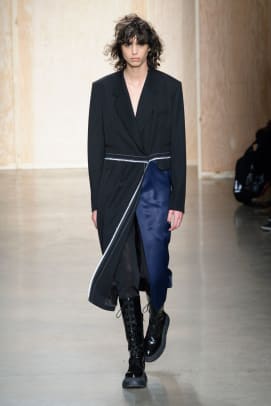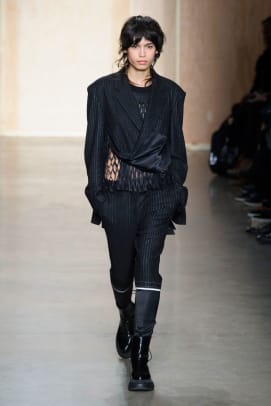 Want more Fashionista? Sign up for our daily newsletter and get us directly in your inbox.