Dolce and Gabbana's Fall Show Was a Full-On Fashion Fairy Tale
Disney lovers, prepare to freak out.
Few designers take a theme and run with it quite like Domenico Dolce and Stefano Gabbana and for fall, they were dead set on bringing a fashion fairy tale to life — literally. Upon entering the show venue on Sunday afternoon in Milan, guests were transported into a Disney-themed wonderland, complete with well-loved objects from classic movies — Aladdin's red carpet, Cinderella's pumpkin, the magic mirror from Snow White — and a soundtrack of the films' most catchy tunes, like "Under the Sea." Models walked onto the runway through a giant open storybook, with a gilded carriage and flower-filled candelabras serving as the rest of the backdrop. 
These familiar storybook elements permeated the entire collection, and watching the looks emerge one by one doubled as a game of "Name That Movie." First came "Cinderella:" Harleth Kuusik opened as Prince Charming and Willow Hand followed in a powder blue dress, complete with a bejeweled bow choker and glass slippers. Next came a shift embroidered with Cinderella's sidekick mice and their spools of thread. This pattern repeated with much of the Disney catalogue, including a series of "Snow White" dresses — one embroidered with the evil queen, another printed with poison apples, and a red frock with dwarf appliqués near the finale — and nods to "Alice in Wonderland" with candelabras, tea sets and pocket watches.
Not every look was directly tied to a Disney film, but they did share the same playful vibe. Princely, menswear-inspired suiting was done up in feminine proportions, like cropped pants and swingy jackets adorned with oversized metallic buttons. Oversized florals were a popular motif, appearing as both realistic graphic prints and as dramatic appliqués, as were cats, with photo-realistic kittens popping up on random pieces. Sweet dresses and outerwear came in shiny, textural materials (they appeared to be Lurex or tinsel) adorned with fringes, bows and bejeweled bib collars. To close out the show, all of the models paraded out from behind a cloud of smoke, wearing matching pink, red and silver crystal dresses — it was the "happily ever after" moment, if you will.
Sure, the show was obvious, kitschy, and for the most part, skewed very young; but perhaps more than that, it was a fun trip down memory lane, to the days when Disney sing alongs were an everyday activity and the most agonizing decision in your life was whether you should be Princess Jasmine or Sleeping Beauty for Halloween. Because let's be real: you're never too old to want to be a princess — or, at the very least, dress like one.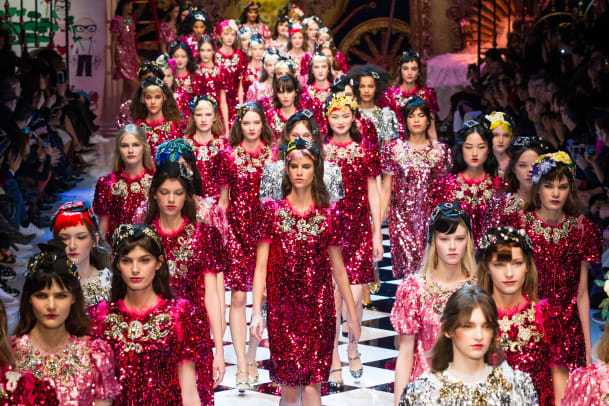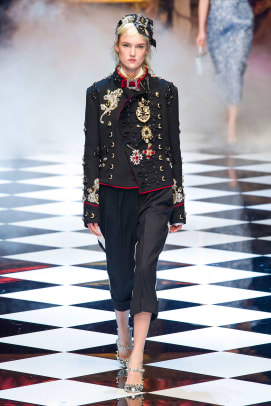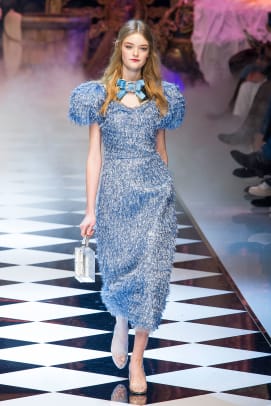 Stay current on the latest trends, news and people shaping the fashion industry. Sign up for our daily newsletter.