Alessandro Michele Borrows From the '70s For Another Vibrant Gucci Collection
What a way to kick off Milan Fashion Week.
It's near impossible to believe that Alessandro Michele made his creative debut at Gucci only a year ago. In that time, Michele — who quietly spent more than a decade holding various roles within the Italian fashion house — turned around an entire label with both creative and commercial results. Gucci's sales, as we reported last week, are up, while Michele's bookish, eclectic aesthetic has blatantly influenced a number of fall 2016 collections from Burberry to Tommy Hilfiger. Magazines can't get enough of his frothy gowns, either. But with great power, of course, comes great responsibility, and all eyes were on Michele for Gucci's fall runway show on Wednesday, the first day of Milan Fashion Week. 
This season, Michele set the tone with a new backdrop, trading plush, snake-patterned carpet and teal upholstered chairs for concrete floors and a flashing neon backdrop. It was a space in which Alexander Wang, for one, might show — perhaps serving as a testament to Gucci's versatility. But where Wang's clothes might cater to the setting's industrial sensibilities, Michele's did anything but.
Once again, it was immediately clear that the young designer sought inspiration from the 1970s, with wide-shouldered blouses and clunky, vintage-tinged prints well-represented in the lineup's first few looks. The colors were as rich and fresh as ever before, especially seen in the show's monochromatic second look — a bubblegum pink fur coat with a floral attachment at the neck, paired with matching tights, buttery leather gloves and a chain link purse. 
Celebrity fans of the brand (and their stylists) will be pleased to hear that the collection's formalwear offerings were quite plentiful. A number of gowns featured the same cascading tulle that has been so popular both in editorials and on the red carpet, while other garments were a bit more inventive; one black dress featured a polka dot lace skirt with spaghetti straps and an oversized serpent embellishment on the bodice. The few menswear looks — a number of loudly printed suits, one in a dusty pink — screamed Harry Styles's name.
Unfortunately, one can't catch every detail in the rush of the runway. Luckily, The New York Times's Vanessa Friedman posted a snap from backstage revealing that the back of one of the gowns unexpectedly featured a bedazzled AC/DC logo, representative of  "renaissance rock 'n' roll," as Michele reportedly called it. A series of pieces also included collars and embroidery characteristic of the traditional Chinese cheongsam, a body-hugging dress made popular by socialites in 1920s Shanghai. In light of Dolce & Gabbana's erroneous tribute to Chinese tourists last season, was this an appropriate element to include? At the very least, Michele's decision to put the Eastern-influenced pieces on white models in addition to Asian ones felt more inclusive and less stereotype-driven.
Gucci won't be transitioning to the "see now, buy now" model at any point in the foreseeable future, and as we see it, that's okay. With a collection as ornate and electric as this one, there's plenty for us — and, maybe, other designers looking for what's selling — to painstakingly examine and ogle at for the next six months. In short? There's no way this line won't still feel fresh come September.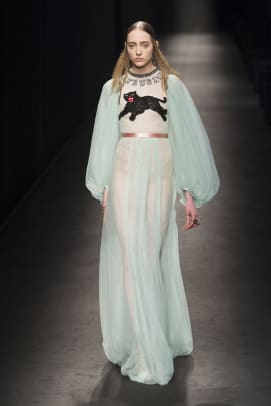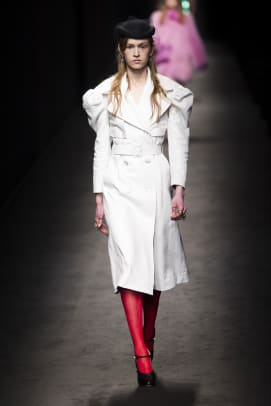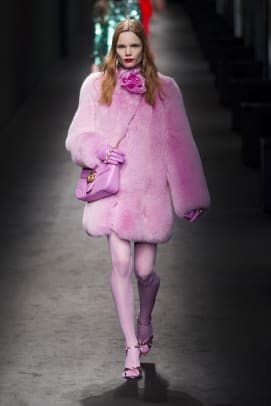 Never miss the latest fashion industry news. Sign up for the Fashionista daily newsletter.