Nordstrom Tasks Olivia Kim With its First Brand Campaign in 15 Years
The company hopes to connect with a younger customer through the optimistic, fashion-focused ads.
It's been six months since Nordstrom expanded Olivia Kim's role as Vice President of Creative Projects. After 10 years at Opening Ceremony, she moved from New York to Seattle to join the department store in a newly created position, launching the monthly shop-in-shop "Pop-In@Nordstrom" and the curated mini-boutique "Space" featuring rare and emerging high-end designers. "I'm typically a merchant who does more of the buying and curating of spaces," says Kim. "Now I'm able to partner with the marketing team to look at how we talk about us as a company. We have amazing products and stories to tell so it's nice to be able to do that on such a big scale."
One project under Kim's updated title is a brand campaign for spring that launched on Monday morning. It's the first Nordstrom campaign in 15 years that represents Nordstrom as a whole rather than the individual brands it carries, and is comprised of print and digital components as well as a commercial for national television. According to Kim, video has been a successful component of Nordstrom's marketing plan.
In collaboration with branding studio Partners & Spade, London-based filmmakers Tell No One and production company Good Egg, Kim provided a creative vision that was "accessible, appealing and open" mixed with the ideas of "optimism, rebirth and energy" that usually coincide with springtime. The actual execution took two days to prep and two days to shoot in London. "I never shot a television commercial before, so to see that process from start to finish and how hands-on things were was really incredible," says Kim.
The final product is a 30-second clip, fittingly titled "See Anew," featuring cheerful models dancing in the retailer's latest designer offerings, including Stella McCartney, Roksanda and Marni, among a bed of (real!) flowers. The girls are surrounded by full-length mirrors, which gives viewers a special kaleidoscopic effect, and the upbeat percussions that Kim hopes will get stuck in your head are by Matthew Dear of the independent music label Ghostly.
From this campaign, Kim wants Nordstrom to be viewed as an accessible fashion authority, using such cues as aspirational clothing on models who were naturally having fun on set. For Kim, it's not so much about pushing sales but more about pushing the conversation and mentality that surrounds Nordstrom. "We're a company that's all about test and learn. And this is a good example of us trying something new," says Kim. "It's meant to feel fun and uplifting and I hope it resonates that."
"Our hope is that the work touches a different spirit and connects with a younger customer than we have in the past," noted Nordstrom's Chief Marketing Officer Brian Dennehy.
The TV ads will drop in four markets — Boston, Chicago, Miami and Portland — while digital and mobile videos will launch on YouTube, Vevo, Pandora and more. Print ads will be published in March and/or April issues of Elle, Essence, GQ, Harper's Bazaar, Marie Claire, Vanity Fair and Vogue. Watch the full-length commercial and a behind-the-scenes clip above, and click through the gallery below for its print ads.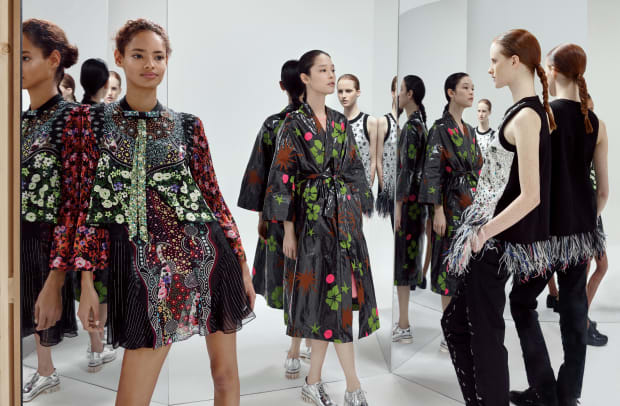 Homepage image: Nordstrom "See Anew" spring 2016 campaign. Photo: Nordstrom
Want more Fashionista? Sign up for our daily newsletter and get us directly in your inbox.