The Prabal Gurung Woman Goes on a Magical Nature Walk For Fall
Undone hems, burned-out velvet and pops of cherry red created a sense of daring adventure — albeit a very ladylike one.
Prabal Gurung has always taken inspiration from majestic landscapes for his luxurious, textured collections — his homeland Nepal, the Adirondack Mountains, the Himalayas — but for his latest offering, he turned to an ethereal setting that only lives in literature and paintings. "This season I take you to a place where magical realism reigns," he wrote in the show notes. 
The collection felt very consistent with fall 2015, specifically in the heavy duffle coats made from wool and cashmere, dramatic fur accents, textural knitwear and delicate slip dresses. But here, Gurung allowed himself more liberty to combine textures and colors: his fawn print showed up in a calfskin asymmetrical skirt, a draped shoulder strap and silk chiffon godets. He also made something beautiful out of imperfections: undone hems dotted with covered buttons popped up throughout at the bottom of pants and thigh slits, as well as in the middle of skirts and shoulders. 
A pair of dresses towards the end of the collection stood out as particularly fairy tale-esque, including a swirled, burnout velvet look, and a snow and gold leaf printed style with a handkerchief hem. Back to back, they seemed to represent two sides of Gurung's narrative for the season — one more mysterious, the other pure — but both made more powerful by his imaginative sense of adventure. The final Swarovski crystal-covered floor-length gowns had the same dichotomy, though the final ivory silk one stood apart as a perfect Prabal bridal option.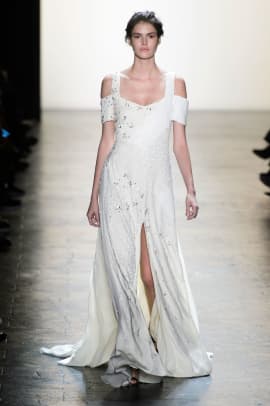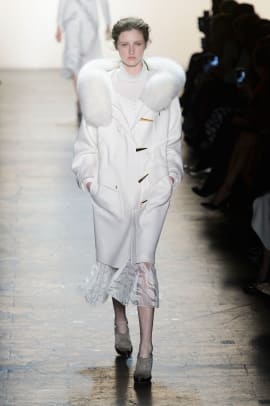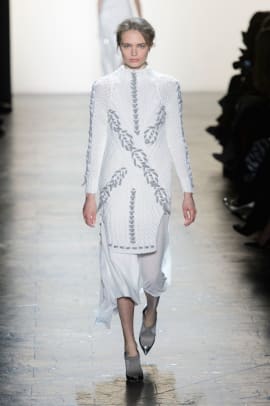 Homepage photo: Frazer Harrison/Getty Images