The Prada Girl Went Around the World and Back for Fall 2016
The collection doubles as a diary of her adventures.
When our invitation to the fall 2016 Prada show arrived just days ago, we knew it was a special token we should hold on to: Each guest received a personalized, thin paper notebook — like a diary or a ledger — with a variety of colorful images cut out and scattered inside, like stamps in a well-worn passport. It's the ideal place to sketch or jot down memories of adventures past, and judging by the collection presented on Thursday in Milan, this season's Prada girl has traveled around the world and back — and has plenty of beautiful tales to tell.
The elaborate set constructed inside Prada's HQ was tiered, wooden and dark, illuminated only by flickering red candles that lined the balcony section. As the lights came up and the first models emerged, the travel theme became clear: Many of the looks were topped off with white sailor hats, and the girls wore intimate trinkets as accessories, like diaries and tangles of keys around their necks or at the waist. In keeping with the sailor motif, many of the opening looks included smartly tailored coats, and golden anchors decorated the heels of shoes; others had a decidedly pirate feel, like lace-up boots and waist corsets, which popped up frequently throughout. While this was a fall collection, the clothing spanned all four seasons, proving that the Prada girl must always be prepared to pack up and head out on a journey at a moment's notice. 
For the colder climates, there were argyle stockings (which often appeared in lieu of pants), leather jackets and skirts, chunky hiker-style boots, gorgeous fur-trimmed outerwear and cozy, bunched-up gloves that nearly hit the elbow. On the lighter side, there were ankle-strap sandals, airy embroidered dresses and silk graphic prints that alluded to all of the places the girls could have visited, including tropical florals, cactus-filled desertscapes and snowy ski towns. Other standout looks came in rich, textural materials, like drape-y velvet dresses with sparkling embroideries, and a variety of silhouettes in stunning brocade.
While the show's underlying theme was evident, each girl's look was unique, as if assembled with things she picked up here and there along her life's journey. And isn't that the true beauty of personal style?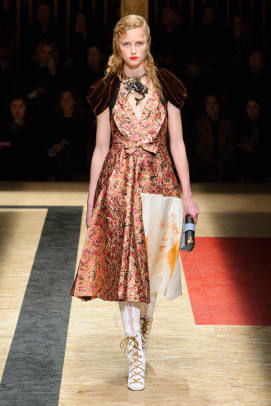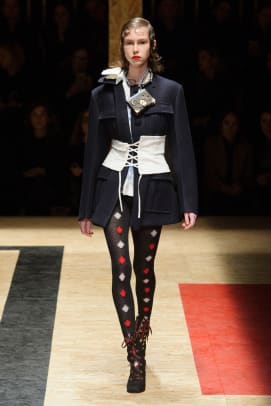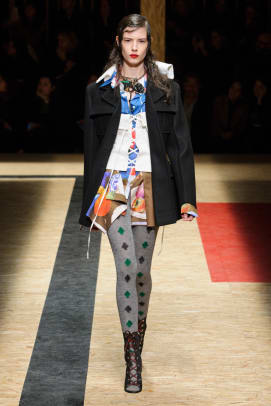 Want the latest fashion industry news first? Sign up for our daily newsletter.