Prada Dips Its Toes Into 'See Now, Buy Now'
Starting with two handbags that will debut at its fall 2016 show on Thursday.
The fashion industry as a whole has been somewhat at odds regarding the "see now, buy now" calendar model. Some — most notably Burberry, Tom Ford and Vetements — have eschewed the traditional fashion calendar for one that promises less waiting for consumers, allowing them to purchase what they see on the runway immediately after it's unveiled, or not long after. Others, such as executives at the Fédération Française de la Couture du Prêt-à-Porter des Couturiers et des Créateurs de Mode (French fashion's governing organization), voted unanimously against the new "see now, buy now" system, arguing that waiting in fact creates desire. But what works for one brand might not necessarily work for another, an idea which Prada seems aware of.
Dipping its toes only slightly into the "see now, buy now" waters, the Italian brand announced Thursday that it will debut two new bags — the Pionnière and the Cahier — at today's fall 2016 show, both of which will be available for purchase Friday at select Prada stores in Milan, Paris and London and on the brand's website. In New York, the two styles won't be available until March 4 at the brand's Broadway, Madison Avenue and 5th Avenue locations. For those who do plan to purchase it the next day, it won't exactly be a cheap impulse buy: the Cahier will retail for $2,660, and the Pionnière for $1,940.
While not necessarily a dramatic shift, the closing of the gap between runway shows and consumers, albeit to a smaller degree relative to other brands, is an interesting development to watch.
As for the details, the Cahier bag, which exhibits details similar to "ancient tomes," will come in Saffiano leather with bronze-colored metal elements. The Pionnière bag, inspired by a hunter's game bag, will have a soft, rounded shape and uniform-inspired outsized shoulder straps. Take a look below for images, and stay tuned for our coverage of Prada's fall 2016 show later this Thursday.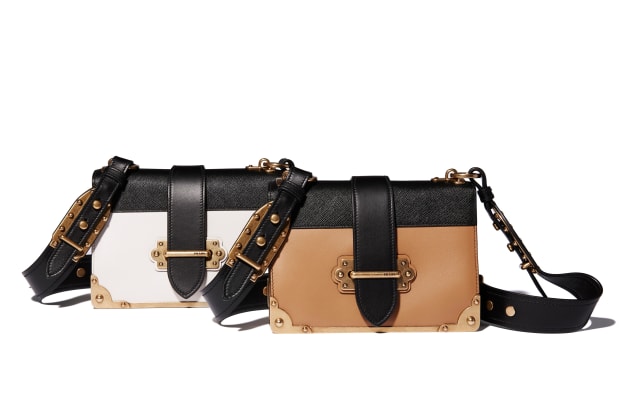 Want the latest fashion industry news first? Sign up for our daily newsletter.