Proenza Schouler Skillfully Mixed Art and Commerce on the Runway for Fall
The design duo offered some "see now, buy now" options without straying from its core message.
While Proenza Schouler has made some big moves on the business front over the past year — the label sold a minority stake to Boston-based private equity firm Castanea Partners in 2015 — its kept an appreciation for art at its core, from the company designers Jack McCollough and Lazaro Hernandez keep, to their seasonal reference points, to the chosen venues for their shows. 
For fall 2015, the duo set up a runway inside the Marcel Breuer building (formerly the home of the Whitney Museum that will soon open as an offshoot of the Met), and on Wednesday, exactly one year later, they presented their fall 2016 collection at the new Whitney in the Meatpacking District, a glass-enclosed space overlooking the Hudson River that houses thousands of works of modern art. Fitting, considering that the clothing was inspired by the artistic process, a theme that came through in deconstructed silhouettes — for instance, bandage-like dresses and skirts that appeared to be unraveling — lace-up details that recalled pieces being sewn back together, patchwork "collage" knits and coats and crisscrossing strips of fabric cinching body-con looks across the torso. The crafty grommets, ribbons and cutouts that have popped up in the label's most recent collections are back, and the season's assortment of accessories and outerwear — cap-toed booties in a mix of colors and shearling-collared jackets — are likely to be a hit among the street style set. 
As in the art world, it's tricky for designers to stay true to their creative roots while keeping the all-important aspect of commerce in mind — something especially topical now that the "see now, buy now" phenomenon is starting to take off. Proenza Schouler decided to offer up eight "Early Edition" runway looks, including a nude rib-knit dress, a cream twill coat with lace-up details, a black embroidered halter dress and four handbags for customers to purchase the day after the show. It's encouraging to see two of the buzziest design talents in New York take on the challenge of instant shopping gratification without straying far from their label's core message or going full speed ahead on the salability front. Although, if I had to make a wager, those cross-body chain-strap bags won't be in stock for long.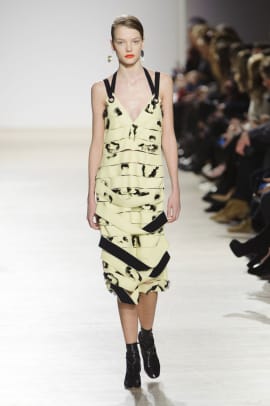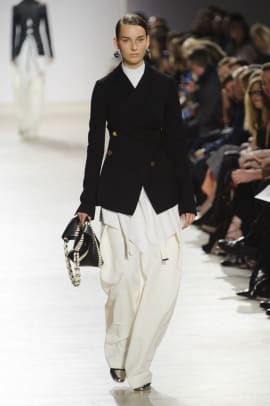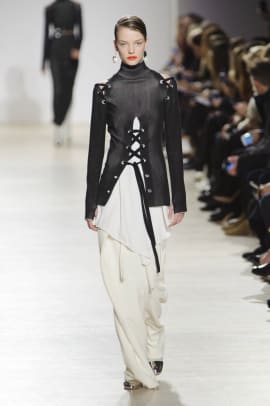 Homepage photo: JP Yim/Getty Images