Pyer Moss's Kerby Jean-Raymond Injects Erykah Badu's Fearless Style Into a Collection About Depression
The runway show featured a live orchestra and choir singing operatic versions of trap music.
Backstage after the Pyer Moss runway show at Milk Studios on Saturday, reporters were eager to interview Erykah Badu, who styled the collection — her first formal foray into fashion beyond campaign modeling. "Is the industry just catching up on your sense of style? I have a theory about you...," said someone who appeared to be ignoring designer Kerby Jean-Raymond. But when Fashionista spoke to her and Jean-Raymond ahead of the presentation over the phone — she from Dallas and he from New York; they worked separately until she arrived Friday night — she was adamant that her role was supportive. "My job here is to help him realize his vision," she said. But understandably, the media at large is more interested in how this fits into her long and varied creative ethos. 
But with Badu's influence, Jean-Raymond's vision was clearly articulated through a "luxe sport" collection (as he described his signature aesthetic) that addressed depression and mental illness with graphic T-shirts stating medicinal side effects, printed illustrations by Maurice Scarlett (see below) and colorful pins with the words "Oxy," "LSD," and "Molly." The rest of the color palette favored black, white, brown and a washed denim blue, with the silhouettes kept mainly genderless and very wearable. The shearling jackets and tailored coats particularly stood out. "I think it's going to be one of my most mature collections," he said last week. 
To balance the heaviness of the theme, Jean-Raymond brought in a choir of all black singers to perform trap music in an operatic style, accompanied by a small orchestra. The audience couldn't help but laugh as they reimagined Future's "Trap N****s" and Fetty Wap's "RGF Island." Later, Badu dubbed it "trap-ra." But at the closing of the show, the choir sang "Lift Every Heart and Sing" — "You have to sing it in secret in America, you can't sing it in a stadium," said Badu — a fitting backdrop for a sign carried by the closing model. It read "My demons won today I'm sorry" in reference to a final post by 23-year-old Black Lives Matter activist MarShawn McCarrel, who committed suicide on Monday. 
Jean-Raymond cited McCarrel as a tragic example of how many mask or hide their depression because society doesn't take it seriously. "I hope that people who don't believe depression is a real thing will stop calling other people 'crazy' because it's dismissive and it's not a medical diagnosis," he said when asked what he hoped viewers would take away from the presentation. In fact, the designer experienced his own bout of depression while designing this collection. 
After all the attention he received for his spring 2016 show, which addressed the Black Lives Matter movement through a poignant and urgent short film, Jean-Raymond struggled to find his footing this fall. "I was uncomfortable in New York, I was getting stopped on the train by people... most of it was positive, but then you'd get death threats and really angry letters." He tried moving to LA but "hated it even more," giving context to the many pieces in the collection printed with the words, "You don't have any friends in LA."
Whether it's racism or mental health, Jean-Raymond is able to successfully address these very un-sexy issues in the superficial world of runway fashion because the viewer can feel how personal is it to him, and Badu helped him find the confidence to stand by his vision. "When you talk about race and you talk about being typecast and you talk about vibrations and all these different types of things... I never had anybody in my life that sounds this enlightened and sounds so sure of themselves and [is] so successful, as well, at doing it," he said. "So it makes me very confident going forward about my decisions and staying true to myself." 
It's lucky timing, because Jean-Raymond has hoped Badu would style one of his collections for a year; thanks to a connection through a mutual friend who styled Badu for the Soul Train Awards in November, it all came together. She said she was surprised by the request, but agreed because she was already a fan of the brand and felt their aesthetics were aligned. "I don't have to recreate the wheel with Kerby because everything that I like is already in the line," she said. "What I do well is not keeping up with fashion, but creating style."
With a whole career of fearlessness already under her belt, Badu understands it's not easy for Jean-Raymond to take risks. "Just like last season, it's a pretty brave and important thing to deal with," she said. "It's not smart either, especially being a black artist/designer in America, if you latch on to Black Lives Matter… it is really dangerous for your career." And even though he lost a major retailer before his spring show, Jean-Raymond said now "everyone is back and more" because "they saw it came from a place of genuineness."
That's not to say Badu wasn't hands-on as a stylist: she dressed all of the models before the show, sourced accessories and helped Jean-Raymond edit down his pieces. The process reawakened an impulse in her to "get some things out of my mind and get them on people, clothes and jewelry and shoes," on which she hopes to collaborate with Jean-Raymond in the future. 
"I've learned, in watching his process, how generous he is with his feelings because that's what art is about, the expression of feeling through things," said Badu. "I like the way he moves and it encourages me to move in this direction, too." With one powerful presentation already behind them, it looks like this is the beginning of a beautiful creative friendship. 
See all the looks from the Pyer Moss fall 2016 collection below.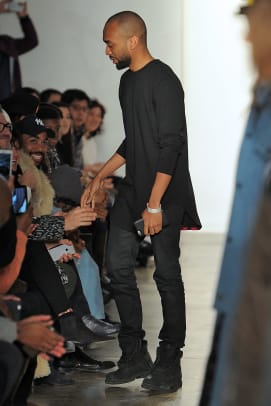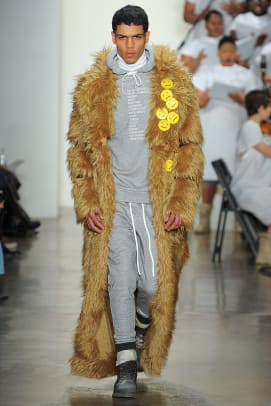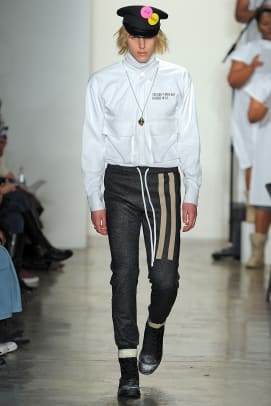 Homepage photo: Mireya Acierto/Getty Images
Stay current on the latest trends, news and people shaping the fashion industry. Sign up for our daily newsletter.