Ralph Lauren Adds a Rock 'n' Roll Edge to His Elegant, All-American Designs for Fall
A series of red carpet-ready liquid gold gowns closed out the show.
Ralph Lauren is nothing if not consistent. It's a practice that could pose as a hinderance to any other designer, but, perhaps, it serves as his greatest strength. The all-American pieces present in each consecutive collection — from chunky leather belts t0 riding boots, paired with everything — have become so ingrained in his brand's aesthetic philosophy that, in many cases, much of what's left for Lauren to do is fill in the gaps. Lauren knows what he does (and what sells) best, and tends not to deviate too far from those offerings. It's how he built his empire. But while his lines may remain more predictable — thematic, even — than those of other fashion houses, that certainly doesn't mean that his shows lack creativity.
This season, Lauren looked less toward a specific era or location — such as the French Riviera or the Western U.S., as he has in the past — for inspiration, instead designing with a specific girl in mind. "By day, her style is effortless and sophisticated in languid menswear," he wrote on the label's Instagram. At night, she transforms herself "with the bold spirit of a cool rocker imbued with a modern romanticism." It sounds like a lot to take in, but with Lauren's magic touch, it worked. 
The show, as always, began with the collection's more casual offerings; Karlie Kloss, a vision in monochrome, opened in cedar-colored trousers and a coordinating cardigan. The 20-odd looks that followed weren't a far departure from the first, each as menswear-inspired as the last and darkening in color as the lineup went on. His daytime girl was, indeed, as effortless and sophisticated as he intended, with nary an accessory involved aside from a belt or a plaid tie. In a black velvet minidress, Victoria's Secret Angel Taylor Hill ushered in the next "cool rocker" segment for nighttime. It's clear Lauren enjoyed himself here, meshing frilly Edwardian collars and heaps of colorful jewelry with brocade overcoats and exaggerated fringe. It was as bold — and fun! — as he likely intended, and as the front row's faces visibly lit up with each passing look, it was clear the audience thought so, too.
What followed was the eveningwear, kicking off with a graceful gown — again, in black velvet — on runway wunderkind Lineisy Montero. With some dresses in lush pleated red and others in glossy gold, it became clear that this latter section appealed to neither the breezy menswear girl nor the rock 'n' roll romantic Lauren made a point to call out. With the Oscars just days away, the Lauren woman will have plenty to choose from. It won't matter if she doesn't fall in perfectly with his vision for the collection, because that's just the beauty of the brand: Whomever you are, whatever your tastes, you can't help but appreciate the clothes and the story they tell.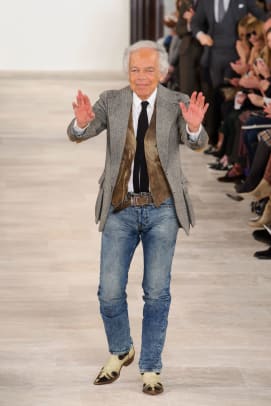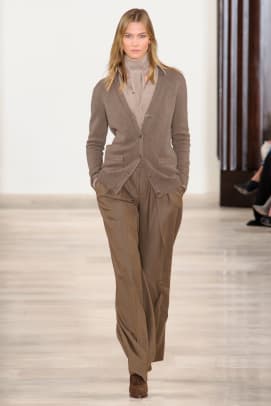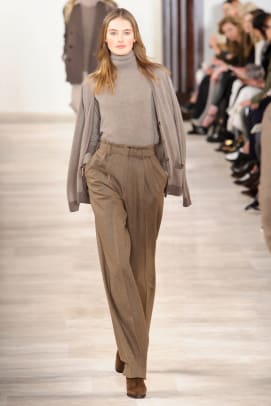 Never miss the latest fashion industry news. Sign up for the Fashionista daily newsletter.