Why Rebecca Taylor No Longer Shows at Fashion Week
After canceling her fall 2015 show in February, sales from her store partners actually increased.
Much ink has been spilled over the problems facing the fashion calendar in recent months. While brands like Burberry, Tom Ford, Vetements and Rebecca Minkoff are flipping their show schedules — revealing their collections to the press, and thereby the public, at shows just before their clothes hit stores rather than months in advance — some established designers are opting not to show altogether.
One such designer is Rebecca Taylor, who after showing at New York Fashion Week for more than 15 years, decided that it was no longer right for her brand and cancelled her fall 2015 show last February. "I'm very intuitive when it comes to the company, and the last show we did, I asked, 'What are we doing this for?'" Taylor recalled in her showroom on Tuesday, where she was showcasing her latest collection via one-on-one appointments with press. "We lost the vision of what the shows were for. The message was getting lost."
Taylor, a New Zealand native, arrived in New York in the early '90s, working as an assistant to Cynthia Rowley before launching her own contemporary label at the age of 26. Twenty years later, Taylor's designs — overtly feminine, with a bohemian edge and an admirable attention to detail — are a staple on the contemporary shop floors of department stores like Neiman Marcus, Saks Fifth Avenue and Nordstrom. She also has eight of her own storefronts, in addition to an e-commerce website.
Taylor's business is strong and stable, which is why she felt comfortable stepping off the show calendar. "We actually spoke to our wholesale partners beforehand," Taylor said. "They call us a 'tentpole brand' within their stores, and said we'll buy you [whether you show or not]."
A basic runway show can cost upwards of $200,000, and without one, Taylor has been able to redirect those funds into new types of marketing — particularly in the digital space. The company hired a dedicated digital marketing manager about 10 months ago to optimize its search and social channels, and has begun advertising on Facebook and Instagram to promote sales on its e-commerce site, which is seeing "phenomenal" sales growth. The brand has also invested more in imagery, particularly its lookbook, which is even more crucial to communicating a collection's vision without a show, Taylor says. It's done wonderful things for the business: In fact, buyers actually increased their spend on the fall 2015 collection.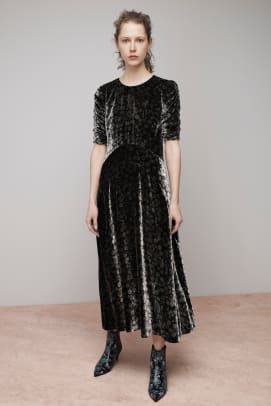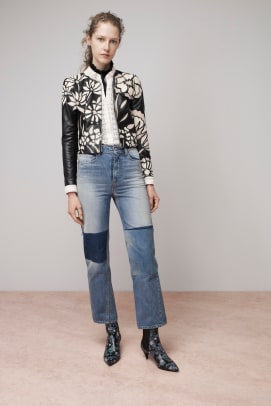 Seeing Taylor in her light-drenched showroom, it was obvious how relaxed she was feeling during what is normally a period of high-stress for designers. "It's so nice to have time to really craft the clothes the way I want them to be crafted," she remarked, picking some favorite pieces from her fall 2016 collection off the racks — a beautiful silk-velvet dress and blazer printed with tiny dark flowers, a black leather pencil skirt and jacket made graphic with floral appliqués, an enveloping teddy bear coat in soft fawn, all inspired by a friend and textile designer who recently passed away at age 100. The collection's lookbook lay on the table, and a video of models walking in the clothes was projected onto one wall. Writing this article a day later, I have a much clearer impression of Taylor's designs and her vision for the season than I would have had sitting for 10-odd minutes at a runway show, half-distracted by the impulse to Instagram every look I liked.
I asked Taylor what advice she has for other designers who aren't sure a runway show is right, or is no longer right, for them. "When I started doing shows in the late '90s at Bryant Park, it was very important because there were no other channels. There are so many other ways to do it now, and money can be tight when you're just starting out. I think younger people are so much savvier about building their audiences through social, and I would say to use that instead of pouring a bunch of money into a show where people [just] sit there and walk away. And particularly to those young, emerging designers: You really need to focus on what you want to be and who you want to be before you pen up to the free-for-all of feedback and input [you get from shows], because that can be really discouraging."