Robert Rodriguez Makes the Clothes We Want to Wear With New Line R/R Studio
Having cut ties with his eponymous label after it was acquired, LA-based Rodriguez is back with a new name and a more laid-back aesthetic.
This is shaping up to be the year of designer second acts, from Kate Valentine (formerly Spade) and Ralph Rucci to Jane Mayle and Rachel Roy. Much like in Roy's case, Robert Rodriguez's namesake line was bought up by Jones Group and, subsequently, Sycamore Partners. He left the company and took some time to recharge; since Sycamore still owned the rights to his name, he came back with R/R Studio, a more casual, laid-back line of "advanced contemporary" wardrobe staples to mix and match. The resort collection, which launched exclusively with Barneys, is filled with easy-to-wear pieces in luxe fabrics that are loose and subtly tomboyish, but still feel feminine and sexy. Think silk dresses to throw on without thinking, chic pants and skirts that go with everything and romantic, lace-accented blouses. Plus, just about everything is under $1,000.
We chatted with Rodriguez, who is based in Los Angeles, about the evolution of his new line, the importance of having a business partner, why he prefers LA over New York and why we probably haven't seen the last of the Robert Rodriguez label.
How did you come to leave Robert Rodriguez and launch R/R Studio?
The Jones group acquired Robert Rodriguez Collection nearly six years ago, so I stayed on board with them and we parted ways in 2014 [when Sycamore acquired Jones Group], so I was able to take some time off. [This] really allowed me to do some traveling, decompress myself and gave me a really clear vision of what I wanted to do next. [I thought,] what if I did a collection that was really effortless and simple and things that girls want to wear every day? Something that's not forced. So that's how R/R Studio came about. We launched the resort collection with Barneys and I did spring, pre-fall, and now I'm getting ready to show fall. I have really good news for you though: I bought my name back.
Right! So how did that happen? What does that mean for R/R Studio?
They came to me and asked me if I wanted to acquire it back, so we said yes. We're keeping R/R Studio for sure; I'm pretty sure I'm going to relaunch Robert Rodriguez Collection. The aesthetic will be different than R/R. I think [Robert Rodriguez Collection] was very trend-driven... R/R Studio is more about a lifestyle, for a girl who's more casual and more relaxed. I'm not really sure how we're going to revamp it again or what we're going to do that's different, but it won't happen until 2017.
You launched R/R Studio with a business partner, right?
My partner [and CEO] is Nicola Guarna [of parent company Gruppo Atelier LLC], and we own the company together. It's the same partner I had with Robert Rodriguez collection. 
Every designer needs a good partner, someone who really understands their vision and someone who's really going to execute the vision with them.
Since this is technically your second time running a fashion label, what did you learn the first time time around that you're applying now?
I came from the designer market. I worked for Christian Dior as an apprentice in New York for a long time, and what I've learned as a designer is that [we] need to evolve and must reinvent ourselves every season. It's really a hard thing to do, but one of the lessons that I've learned is to be true to your brand and not to look the other way at what others are doing. Focus on what you do best. 
I've also learned a lot of tailoring from my past positions and the craft from the designer market and I think that's what I bring into what I'm doing now.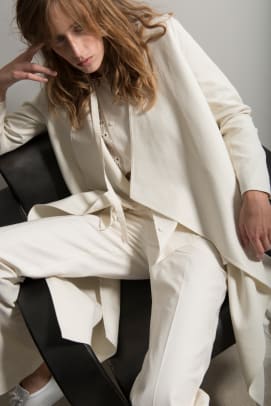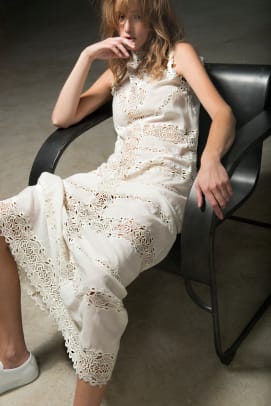 R/R Studio is described as "advanced contemporary." How did you come to that and what does it mean?
I wanted to do something that was very special, and again I came from the designer world so I wanted to carry my craft to a more attainable price point. I didn't want to forget what was important to me, which is always quality and fit and textiles.
You launched with Barneys exclusively, which is great — how did that come about?
It was a collaboration of Goods and Services [the sales showroom] and my partner Nicola Guarna. We showed the collection for the first time for resort and Barneys really gravitated to it — they wanted it exclusively because that's really how they buy things. Everybody wants exclusivity, right? We have a lot of other stores that I [used to] sell to like Neiman's and Saks... Barneys has exclusivity for one year, so after that I'm hopeful that I can sell to all the rest of my friends.
Will you launch e-commerce?
We're going to be launching e-com hopefully in late May or June.
What has inspired you in terms of the aesthetic of R/R Studio?
The lifestyle of women today. There wasn't a particular reference but more of, "What is their lifestyle? How do they dress every day? How do they go to work? How do they go out at night?" I've found that it's very eclectic. It's very individualistic. Not everyone dresses head-to-toe anymore in one designer. I really wanted to capture that in my collection. There's pieces that you can layer together, that you can put together with denim; you can dress it up or dress it down.
New York is still thought of as America's fashion capital — what are the advantages and disadvantages of being in LA?
I think fashion is global nowadays because everything's about social media. What I really miss about New York is the walks and the culture, but I think LA is a great place to live as well. I've built a life here with my partner so LA has given me a different light, a different clarity. I find myself in a very creative space and there are great things happening here downtown — new shops, great restaurants. It has a really cool vibe and there's a new generation of artsy people. I mean, Saint Laurent is showing here so there's something cool about it. 
I have my studio downtown and I call it Little New York... I have a great studio with great windows and it's really bright and I look outside my windows and it's all buildings, so I feel like I have a little bit of both worlds.
Would you ever show again during fashion week?
I would like to have a show sometime. I think again we're such a young company that I'm really not rushing to put on a show or presentation yet. I want to build and present my collection through social media.
I love New York Fashion Week, don't get me wrong, and I think it's a great venue for designers to really showcase their talents and their collections, but I also think that people are looking for something new and I wish I knew what that was. I don't know that I would do a runway show; I'd like to do something a little more intimate in some sort of setting, even more so than just a presentation.