The Celebrities Overshadowed The Hedi Slimane Rumors at Saint Laurent's LA Runway Show
Justin Bieber, Lady Gaga, Courtney Love and the entire Kravitz family showed up to take in Slimane's fall 2016 collection and an after-party featuring 11 musical acts.
Wednesday night, Saint Laurent presented its fall 2016 men's collection and part 1 of the women's collection in Los Angeles (it will show part 2 in Paris). While rumors of Hedi Slimane's departure from the label reached a fever pitch just before the show, they were ultimately drowned out by star power and rock 'n' roll.
Slimane's love of his adopted hometown of Los Angeles and its indie rock cool kids has left a visual imprint on every Saint Laurent collection since he took over as creative director in 2012. When it was announced that the label would show for the first time in the heart of Hollywood at the Palladium, a music venue, our only question was why it took him so long.
The timing couldn't have been better. With the Grammys scheduled for Monday and the Oscars just after that, the front row runneth over; Lady Gaga, Courtney Love, Lenny and Zoe Kravitz, Lisa Bonet, Kate Hudson, Justin Bieber, Joan Jett, Ellen DeGeneres, Portia de Rossi, Dakota and Elle Fanning, and Sam Smith were just a few bold-faced names we spied. Pam Anderson and her exceptionally photogenic sons Brandon and Dylan Lee — Slimane's latest muse — were also on hand.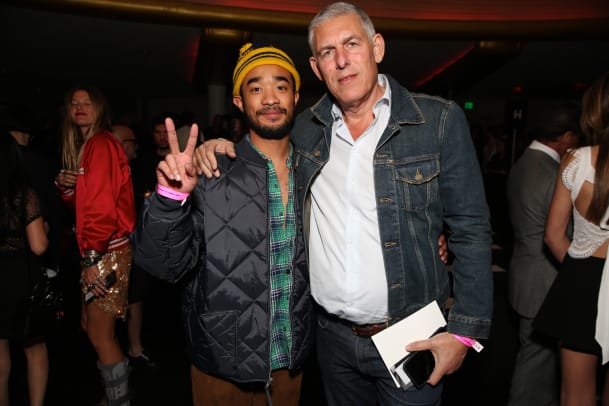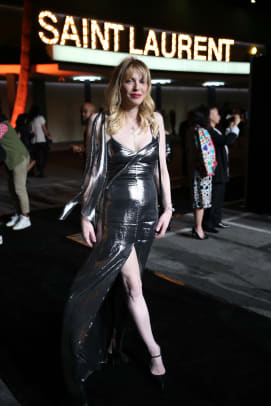 When the house lights dimmed and a large moving light installation dropped in the middle of the space to PyPy's "She's Gone," it felt, fittingly, like the start of a rock show. If some of Slimane's prior Saint Laurent collections have felt heavily influenced by grunge or '60s pop, the vibe of this collection was full late-Seventies androgynous glam. Skinny pants, velvet blazers and fur jackets were plentiful.
Slimane marked the 50th anniversary of the Rive Gauche by reusing the iconic 82 Musical Note print embroidery on the back of a velvet jacket. Bow blouses and mid-length skirts also called back to that era. The models were styled in hats, sunglasses, glitter eye shadow and drape-y neck scarves. The overall effect more than invited Bowie and Jagger comparisons.
The after-party was held in the same space and featured no fewer than 11 live musical acts, including Father John Misty, Beck, Joan Jett, Allah-Las, The Sloths and Cherry Glazerr. On our way out, the line to get into the event snaked down Sunset. Like the door at any good rock show, a kid holding a skateboard was waiting by the exit, and he offered us $10 and a cigarette for our wristband.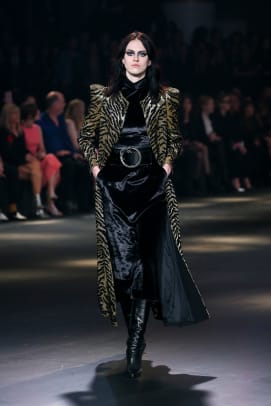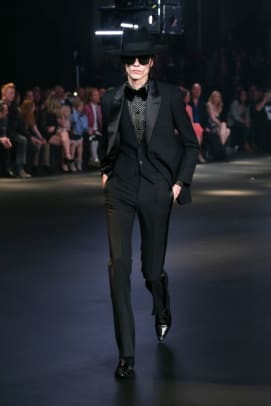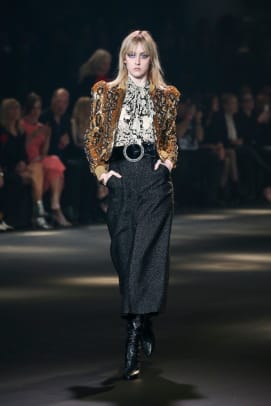 Homepage photo: Larry Busacca/Getty Images for SAINT LAURENT
Want the latest fashion industry news first? Sign up for our daily newsletter.