Chanel Forced Us to Pay Attention to the Clothes This Time
Karl Lagerfeld transformed the Grand Palais into a replica of Coco Chanel's own show venue at 31 rue Cambon.

After Karl Lagerfeld made a statement against waste and environmental destruction with Chanel's sustainability-focused spring 2016 couture show in January, we were curious as to how he would follow that up, set-wise. Wouldn't it have looked hypocritical to come back with another over-the-top set, like spring 2016's airport terminal, fall 2015's brasserie or fall 2014's grocery store?
Perhaps considering this, Lagerfeld set up the Grand Palais like an old-fashioned couture salon — a nod to Coco Chanel's 1960s-era presentations at 31 rue Cambon, according to the brand — with nothing more than a few mirrored columns, a pristine white carpet, great lighting, as well as gold chairs that were set up so that each guest had a front row seat. With not much space for a runway, we were all mere inches away from the clothes. And as the models walked by in quick succession, there was little else to pay attention to; we barely even had time to keep tabs on the top models who walked (Edie, Bella, Gigi, Kendall, Lindsey, Mariacarla, Anna, Charlotte, Binx, Lineisy, Molly, Anja, etc.). 
These looks demanded to be viewed close up, so rich that they were with surprising details. Broadly, the key silhouette was a knee-length, softly structured dress or skirt, often with slits up the sides and with a covered-up top, a scarf (or sweater worn as one), fingerless gloves, pearls and knee-high boots. While a series of hot pink and denim looks at the beginning recalled the late '80s and early '90s, most looks couldn't be tied to one particular time period, though they were all unmistakably Chanel. Models wore flat-top hats like those Coco was known to wear. Riffs on the house's classic bouclé suits abounded, and the quilting we all know and love from Chanel bags showed up on outerwear and was even incorporated into the beauty look: Each model had "quilted" eyeshadow up to the eyebrow — something our seating format allowed us to actually see. Ditto to the blouses and pants printed with camellias (another Chanel house code) and cat (perhaps a new house code, thanks to Choupette) emojis. That's not to mention the jeweled and pearl-encrusted cuff bracelets, pins and belts, some of which also featured emoji motifs, in addition to camellias and double-Cs.
The quality of each garment was breathtaking up-close, especially when it came to the eveningwear — delicate and frothy, all in black, white and gold.
There are times when you leave a runway show thinking, "I could have just looked at the photos online." This was not one of those times. Whether or not Lagerfeld is on his way out (and we really hope he's not), this collection was a classy reaction against Instagram-baiting fashion shows, in addition to defining his legacy at Chanel — looking towards the future while not forgetting the past, in a nutshell.
Browse the full collection below.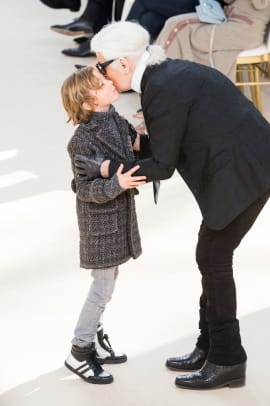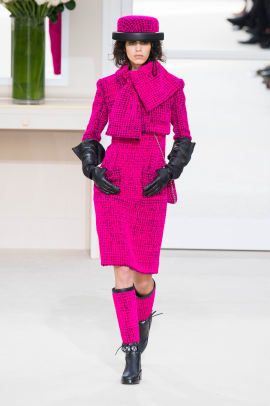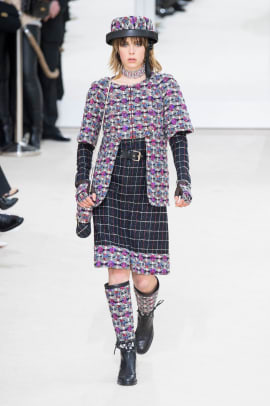 Never miss the latest fashion industry news. Sign up for the Fashionista daily newsletter.