Dior Successfully Keeps Up Appearances Without a Creative Director
Dior without Raf Simons is still Dior, and this collection lived up to our expectations of the brand.
I probably shouldn't admit this, but as excited as I was do go to my first-ever Dior show in Paris, I was slightly (like, minutely) disappointed that it would take place while the house is between creative directors. However, that nauseatingly #firstworldproblem was mitigated as soon as the first few looks appeared on the futuristic, spaceship-like runway erected in the Musée de Louvre.
The show began with a series of dark navy and black looks in classic silhouettes that were anything but simple, thanks to eye-catching details like a brocade crisscross on the bodice of a dress and sparkly embroidered patches down one side of a skirt. They were followed by busy-yet-beautiful abstract floral prints, more colorful embroideries and bold accoutrements, like big ruffles and puffy sleeves that added dimension in clever ways. 
With accessories — from bags to rings to earrings — piled on, a few looks were a bit too busy, certainly busier than any Simons would have shown. But most of the print and fabric-mixing totally worked, and the accessories added a sense of individuality to the models, whose slicked-back hair and dark lips gave them a cool-girl sophistication. As with the brand's spring 2016 couture collection (also designed by a team), the asymmetrical off-the-shoulder detail was big, seen on everything from dresses to blazers to fur coats. However, the fit and execution, as far as we could tell, was much better this time around.
While it may not have pushed the fashion conversation forward in the same way Raf Simons's designs often did, this was a beautiful collection that clearly displayed the talent of Dior's design team — led by studio directors Serge Ruffieux and Lucie Meie — and will not disappoint customers. As Dior continues its search for a permanent creative director, they've done a great job maintaining the quality and elegance we expect from such an illustrious house.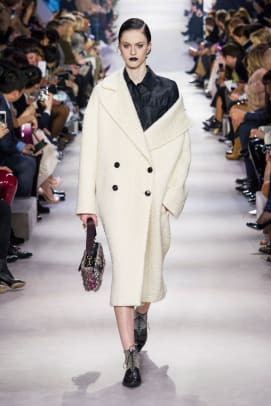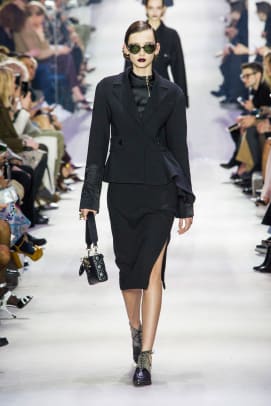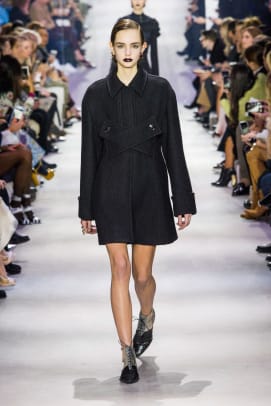 Want the latest fashion industry news first? Sign up for our daily newsletter.