Giambattista Valli Sticks to the Frilly Femininity He Does Best for Fall 2016
A few flouncy gowns never hurt anyone.
Giambattista Valli is one of the Paris collections we look forward to on account of its dependability — which is to say, the designer's runway shows rarely veer far from what he does best. As Dhani wrote in reference to his glamorous hippies last season: "He aims to create pretty, feminine clothes with the smart use of color, florals and embellishment." This reference rang true for Valli's fall 2016 offering, which debuted on Monday in all of its characteristically ladylike glory.
The show opened with a series of wearable frocks — some with stark, flat collars reminiscent of a go-to work blouse — that the Washington Post's Robin Givhan described as catering to "that fancy four-hour lunch" crowd. Indeed, she has a point: Despite being paired with knee-high gladiator flats (similar to those seen on the brand's spring 2016 catwalk), the first part of the collection would be perfect for a formal, champagne-fueled luncheon where a floaty, pleated blouse falls under the event's dress code.
As expected, the pieces spared no femininity, even when it came to a few edgier, more masculine silhouettes. For example, an oversized black moto jacket, featuring a fluffy collar, looked appropriately femme when coupled with an airy white skirt with a patterned neckline peeking out underneath. The remainder of the collection's coats towed this line nicely, somehow making heavy, brawny furs look as womanly as the floral prints with which they were worn. 
But of course, we're all here for the gowns, several of which sported Edwardian collars against sexy, intentionally placed cutouts and frilly bodice detailing. In her second runway appearance of Paris Fashion Week, Gigi Hadid closed the show in a confection that will surely be all over the red carpet in just a matter of time. The gown is as ornate and extravagant as it is contemporary, which might just be the perfect way to describe Valli's collections as a whole.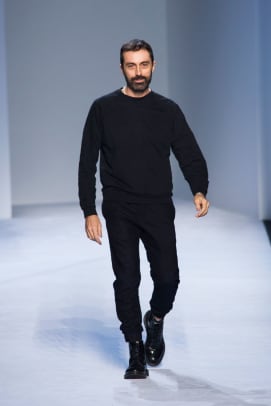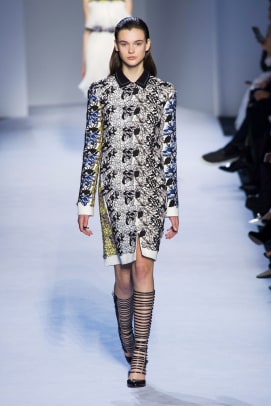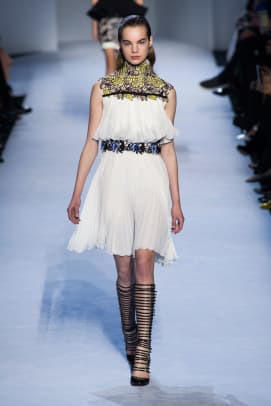 Never miss the latest fashion industry news. Sign up for the Fashionista daily newsletter.