H&M Won the Casting Diversity Game for Fall 2016
From Amber Valetta and Jourdan Dunn to Ashley Graham and Hari Nef, models of all shapes, ages and races walked the runway.
As an enormous global brand with vast resources, H&M is in the unique position to do a lot more than just design and produce clothing. It can, and should, tackle issues it sees in the industry (albeit in ways that may benefit its own PR). For example, even if what H&M has built its business on (fast fashion) is inherently unsustainable, it does what it can to keep its ecological impact down, and speaks out about its sustainability efforts widely and frequently.
Now that the brand shows seasonally during Paris Fashion Week, it has a major platform to communicate whatever aspect of its brand message it wants to the Snapchatting and Instagramming masses. So on Wednesday, it tackled the hot-button issue of runway diversity. Following season after season of complaints about the lack of it on runways in all four fashion capitals, H&M made its casting the most attention-grabbing part of its Studio Collection show (even more than the live choir behind the runway and starlets like Kate Mara and Emma Roberts in the front row), at least for those of us who have spent the past four weeks watching the same white, 16-to-20-year olds — with some exceptions, of course — walk. 
Though there was a decent number of non-white models, the cast didn't just represent racial diversity, but also diversity in age and shape. Amber Valletta and Pat Cleveland (42 and 65, respectively) walked alongside Pat's daughter Anna, as well as popular models Jourdan Dunn, Devon Windsor and Andreea Diaconu and the inimitable Natasha Poly. Trailblazing Sports Illustrated cover star and noted plus-size model Ashley Graham was there, too. The presence of transgender women Hari Nef and Andreja Pejic no doubt added to the inclusive feel of the show.
In addition to being varied, these models are well-known and in-demand, and could be seen as an instance of stunt casting that only a deep-pocketed brand like H&M could afford. The brand's Head of Design Ann-Sofie Johansson told us backstage after the show that in fact, "H&M is all about diversity, has always been, and this time we wanted to put more focus on that," adding that, "anybody should be able to enjoy fashion, whatever you are, whatever your looks are." She also noted that several models who walked are former H&M campaign stars, and that others might have a place in the brand's ads in the future. Inclusiveness also makes a lot of sense for H&M: It's not an exclusive luxury brand and no doubt wants to sell its wares to everyone.
In addition to inclusiveness, the brand also decided to celebrate its Swedish heritage, which was the starting point for the clothing — from Swedish folklore to iconic Swedish actress Ingrid Bergman. With Gaucho hats and '90s power-dressing thrown in as well, the collection was a bold mishmash of references.
As Johansson so aptly put it, "It's always nice to mix things." 
Browse the full collection below.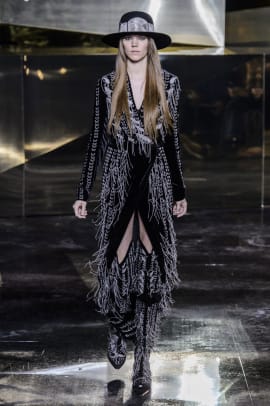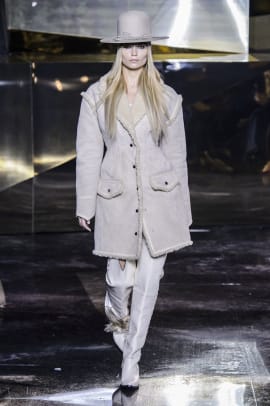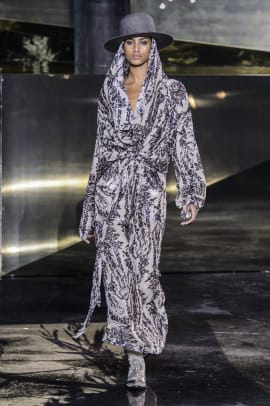 Want the latest fashion industry news first? Sign up for our daily newsletter.