Isabel Marant, Dictator of French Cool, Says '80s Fashion Is Back for Fall
It's confirmed: we'll all be dressing like the Heathers in six months.
With all the attention the '90s have gotten from the fashion community for the past several seasons, we forgot how fun the '80s were. Having only spent about a year of that decade alive, I'm referring more to pop culture's depiction of it, and it appears that we're going to start dressing like that again soon based on Isabel Marant's fall 2016 collection (Lanvin went there too, as did a few other designers, though more subtly). As upbeat '80s hits played in the elegant Place Colette near the Palais-Royal, attendees forgot all about the gloomy weather outside. Marant seemed set on making this show a fun one.
The '80s can be a tricky inspiration point to execute, but Marant did it the right way — without much of the tackiness that's often associated with that era of fashion. Hair was teased just the right amount, and several models' bouncy curls had me rethinking my decision to straighten my own. Plus, the fact that this was a fall collection helped keep things classy: patent leather miniskirts and pants were tastefully paired with wool knits and/or oversized, ankle-length coats. Preppy sweaters were layered over button-downs and Victorian-style blouses. Animal prints were balanced out by somber grays and plaids. Ruffly, partly sheer, black silk dresses looked romantic and luxurious while evoking an '80s dance club vibe.
A few of the bolder pieces, like a long, bright red patent leather coat with a studded belt or a shiny, red, skintight satin jumpsuit with a gigantic bow on one shoulder, won't be for everyone, but there were plenty of wearable pieces with commercial appeal. I'm also willing to bet that even for those of us who can't afford Isabel Marant, her '80s influence will still find a way into our wardrobes in the coming year. The designer does have a way of knowing just how women want to dress, after all.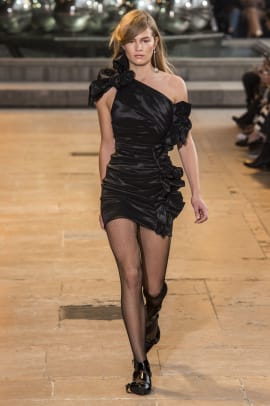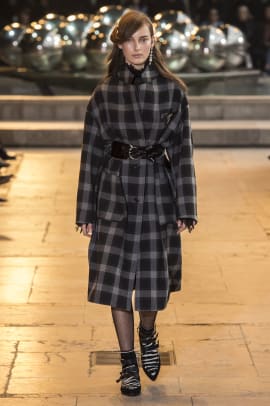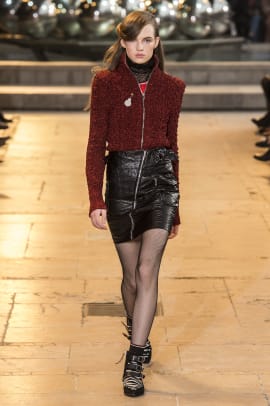 Want the latest fashion industry news first? Sign up for our daily newsletter.