Without Alber, Lanvin Looks to the '80s for Fall 2016
There was a lot missing without Alber Elbaz, but also a sense of newness.
On Thursday night, at the Lycée Carnot, the fashion world got its first real taste of a Lanvin without Alber Elbaz (aside from an all-over-the-place pre-fall collection). Gone was the purity of his appealingly sensuous beauty, and in its place? Fine spun, lace '80s power suit-cut blouses and jackets, sweeping houndstooth outerwear over loose seafoam green trousers, and satin, low-cut, vintage prom-styled, jeweled shoulders. There was a ruched, one-shoulder crepe dress and a blond, satin frock with undulating, pale emerald lined curves at the neckline. Jewels decorated mauve and ice blue silk shirting. This collection was lush — just look at the lace, the plump furs — but also had a touch of disobedience in its not-entirely-ironic '80s bridal aesthetic, its slightly outsized metallic dresses and its sinister-looking coats
Much of the color palette was made up of pastels that somehow did not feel at all precious. Along with the throwback silhouettes and slick vinyl jackets, these were elements we never would have seen from Elbaz. Though there were, arguably, some highlights: a black patent leather trench, with ruffles coiling up the sides; a moss green fur that elicited an audible gasp; and a full-lace, almost-nuptial, floor-length gown in cream and sky blue. With its elongated sleeves and exaggerated silhouette, it hinted at a very different Lanvin, indeed. Some have suggested that the team collection lacks Elbaz's soulful devotion and technical clarity. One might also argue that the new Lanvin rather represents another kind of still-exquisite luxury' something very now, with the Vetements-esque coating and sly attitude. Not only was some of it gorgeous, but it had a certain type of cool, too.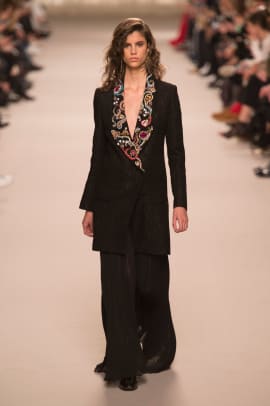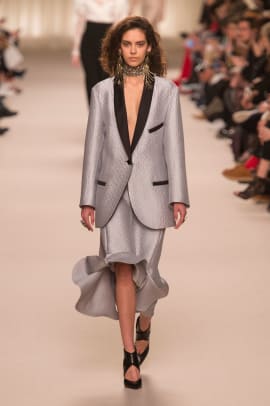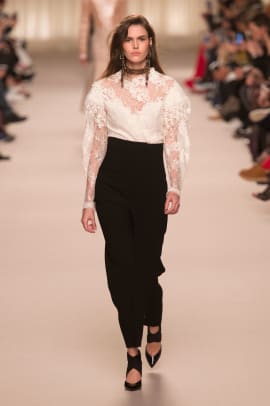 Want the latest fashion industry news first? Sign up for our daily newsletter.