Nicolas Ghesquière Looks to a More Individualized Heritage for Fall
And utilizes that brown LV monogram in ways that made them appealing for the first time in a while.
With his spring 2016 collection and now for fall 2016, Nicolas Ghesquière has moved far away from the '60s/'70s aesthetic he relied on for his first few Louis Vuitton shows and towards one less defined by any specific time period. It feels more like the futuristic vision he explored while at Balenciaga — but a version more focused on wearability.
According to the show notes, he aimed to explore the idea of "stylistic heritage" and what influences one's preferences for a certain look over another. What resulted was a sort of incongruous collection filled with pieces that, individually, will appeal to one person or another. There was an athletic tinge to some pieces, like sneaker boots, sweaters with stripes on the sleeves and outerwear that referenced varsity and baseball jackets, but not too literally. All of the above will likely be street style favorites come September.
Ditto the tight, cropped, natural-waist leather pants that were akin to those Daryl K made ubiquitous in the '90s, and the metallic, printed dresses. The long coats worn so that they bared midriffs, as well as the super-cropped ones, while interesting, might be a harder sell.
What I'm most interested to see take off (or not) are the handbags featuring Louis Vuitton's classic brown monogram — in silhouettes ranging from an oversized hobo and a tiny top-handle, to a play on the bucket bag and a trunk-shaped style. That motif has eluded popularity among the fashion-forward crowd in recent years, so associated it's been with the utterly basic "Speedy." But Ghesquière's new versions looked quite appealing. Could the monogram be on its way back, along with logos on clothing? We'll find out come fall.
See the entire collection in the gallery below.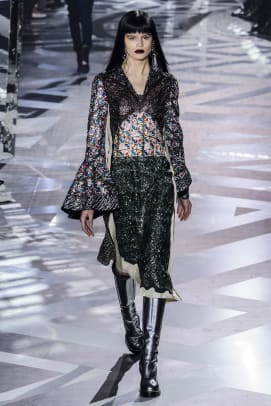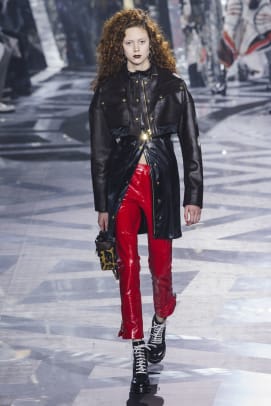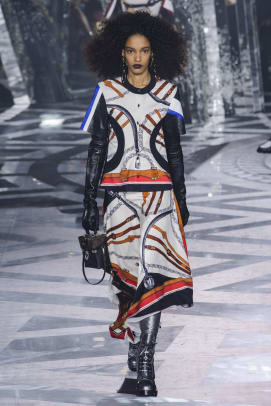 Never miss the latest fashion industry news. Sign up for the Fashionista daily newsletter.