The Miu Miu Girl Grows Up (and Goes a Little Nuts) for Fall
There were supermodels, '80s references and bejeweled shower shoes.
There's a certain image that the brand Miu Miu conjours up — of a cute girl in whimsical, colorful, quirky clothes. Like Zoe Kazan, who sat in the front row. But fall 2016's Miu Miu girl seems to have done a lot more living than those of previous seasons. And as this collection proved, life can really mess you up.
Miuccia Prada made the set for her show feel like an old, dusty home that was slightly unkempt but still somewhat impressive — it was meant to feel like a "great hall" according to a press release, i.e. an unused ballroom in a large house, perhaps. To make us feel a part of the "mis-en-scene," each guest had a front row seat on oversized ottomans and wooden fold-out chairs. [Ed note: I sat on the latter and being able to rest my back on something after nine days of sitting on risers was the most wonderful feeling.]
The all-star cast of models including both Hadids, Kendall Jenner, Emily Ratajkowski, Lara Stone, Joan Smalls and Adriana Lima came out in grown-up clothes with an eccentric, haphazardly put-together sensibility. The collection began with a selection of denim looks with the '80s feel we've been seeing a lot of this season. That was followed by some menswear-inspired outerwear and knitwear, sometimes belted awkwardly, as well as some coats and skirts that looked like they could have been made out of the slipcovers for the ottomans guests were sitting on. I particularly loved a skirt in the upholstery-esque fabric paired with a yellow grandmotherly twinset on Joan Smalls. Several jackets had men's names on them alongside a patch with a Miu Miu logo (branding! street style!) A few evening looks were quite mature and elegant, if very '80s: a black velvet strapless dress with ruffles paired with black tights; another black strapless number in what looked like taffeta; a long, black patent leather coat worn with pearls; and a lavender floral-printed dress with white bows at the shoulders. Otherwise the styling felt a tad... unhinged. See: slouchy, too-big black stockings, a men's tuxedo jacket paired with an argyle sweater and shorts, and fuzzy, bejeweled shower shoes worn with everything from equestrian trousers to pajama-like shorts to gowns. It wasn't quite "Grey Gardens," but the styling was in that nutty vein. Individually, there were some killer pieces, and as per usual, everyone will be clamoring for the footwear in particular.
All in all, it was a refreshing, thoughtful show that brought some much-needed fantasy to Paris Fashion Week on its final day. See the full collection below.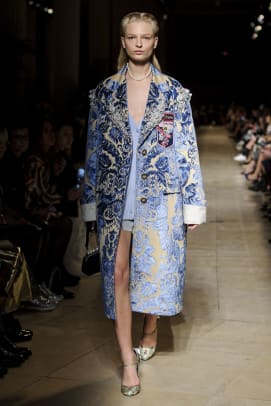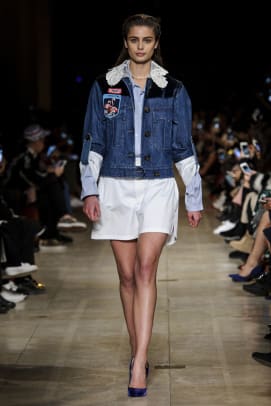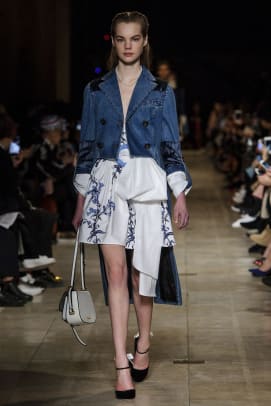 Never miss the latest fashion industry news. Sign up for the Fashionista daily newsletter.