Rallier Is a Charitable, New York-Made Dress Label to Watch
For every dress sold, school uniforms are given to schoolgirls in regions afflicted with severe gender inequality.
My generation has an unfortunate reputation for acting entitled, self-important and, worse, lazy. They're qualities I haven't always found to be true, and one noted exception is 28-year-old Olivia Fay, who, after seeing the documentary "Girl Rising" (about the challenges girls facing trying to get an education in the developing world), left a plum public relations job at Prada to enroll in New York City's Stern School of Business. Eventually, she started a philanthropic-minded clothing line — Rallier — with little to no formal design experience. Easy enough, right?
Rallier, which launched last month to a slew of critical acclaim, is a dress-only contemporary range that's made locally in New York City and benefits schoolgirls in regions affected by gender inequality in education. It's sold direct-to-consumer online, and for each dress purchased, one-to-three school uniforms are locally sourced and donated via Rallier's nonprofit parter, Shining Hope for Communities (SHOFCO). It's a noble purpose, and one Fay has carried out with an apparent sartorial prowess, a win-win.
But how did Fay get into the apparel and nonprofit businesses with neither a formal design nor philanthropic background? And how, exactly, did business school help her get her company to where it is today? I had Fay break it down for us.
You were working at Prada when you saw the documentary "Girl Rising." Tell me about that click moment.
I could barely speak when I walked out of the theater. When you watch things like ["Girl Rising"] and then go back to marketing $3,000 handbags, it doesn't feel right. Not to knock Prada, but I couldn't keep doing what I was doing. There was an internal shift: I'm a fashion publicist, so what am I going to do about this? Who am I to try to intervene? 
I read about school supplies, transportation, teachers' salaries — and then uniforms, and a lightbulb went off. At the end of the day, that's a dress! If someone with my background were to intervene in this issue, this would be the most appropriate way to do it.
Why dresses?
In watching what other young brands have done, I think it's a huge mistake to launch with, like, 15 categories. I'd rather be an expert in one thing, especially because we have a tiny team; I'd rather create an amazing product in one category than launch with 20 and have everything be meh. I also knew we were going to be direct-to-consumer e-commerce, so, for me, it's always been easier to order dresses online — skirts and pants are a little trickier. I know my size in a dress. I always rely on dresses as my pillar pieces that can get me out the door — and they last in my closet the longest. They're less susceptible to trends going in and out. 
When did you decide to go to business school?
My background was in PR, and my undergrad major was art history and fine arts; I knew I needed a little bit more.
My application to business school was essentially the first iteration of my business plan. As soon as I was in business school, this idea was vetted and I got to pitch to investors in a very low-stakes environment.
How did business school help you in launching Rallier?
My biggest takeaway was the amount of people that cared about the issue — not only girls' education, but wanting to do good in the world. I think this is super interesting from a business school perspective, because the majority [of students] are bankers and consultants. Everyone had [doing good] as part of what they wanted to do when they left school, so it was very affirming for me. 
I was in the business school, but NYU allows you to take classes outside of Stern, so I was able to learn more about international development; I was sitting in a classroom with teachers who have taught in the regions where I wanted to donate.
Tell me about the design process. Did you have formal training in design prior to starting Rallier?
I did a semester abroad at Parsons in Paris — I mean, by no means do I claim to be a graduate of Parsons, but I did take sewing, and I took fabric design classes. I've always been pretty creative. My undergrad major was half fine arts — again, not fashion — but I've always had an arts edge to what I did. And at Prada, even though I was a publicist, part of my job was learning about the fabrics.
I work with a technical designer, a pattern maker and our factory really closely. It's very, very collaborative. Our factory in New York is female-owned. 
How did you go about both finding and linking with your company's nonprofit, Shining Hope for Communities?
I did tons of research. I found that a lot of huge nonprofits that are likely based in America have every ability to have a marketing partnership with a for-profit company, but don't necessarily have a grassroots founder who has a true understanding of what's going on in [the community you're trying to help]. I'm a big believer that if you don't have a senior person on your team who knows that community intimately, there's a high chance your project is not going to be successful.
So with my partner, Shining Hope for Communities, there's two co-founders, and they're now husband and wife. The wife is American, from Colorado, and the husband is from Kibera. It was like finding a unicorn. 
What differentiates Rallier from Toms Shoes, or a similar brand that focuses on giving back?
Warby Parker and Toms Shoes are both one-for-one, right? [Editor's note: One pair of glasses or shoes, respectively, is donated for every pair that is purchased.] The customer knows it; it's catchy from a marketing perspective.
For me, I have a higher price point, so I felt the social mission also had to be a little more robust, and our dresses range in price. It's $295 to $495, so it didn't seem logical to me to donate the same amount for a dress that costs almost $500 versus $295. We ended up deciding on donating one to three uniforms. For the $295 dress it's one uniform, and for the $495 it's three. Basically, we plug in what the retail price is going to be and we assign a number of uniforms based off the range.
If we were to sell out an entire season, we would uniform the entire school at Kibera. I like that SHOFCO's growing, because we're still growing, so as they add schools, we'll be able to grow together. The uniforms are actually made through the school's women's empowerment program. The women are trained, they're given sewing machines and we source everything locally, so it's all local production.
What does social responsibility mean to you?
Social responsibility is what it means to you. It's about living your values on a day-to-day basis — not just on Christmas when you're going to donate, or there's a charity event you're going to every six months. It's really your everyday decisions. I think customers don't realize how powerful they are with how they spend their money. If every customer in America decided they're only going to buy from socially responsible brands, every single brand would have to change. I do think that is happening, slowly. It's a great time to be doing this.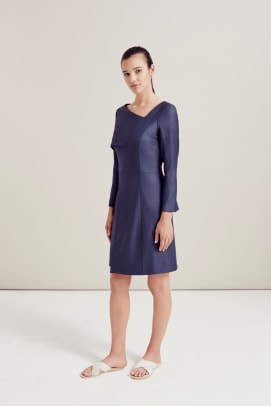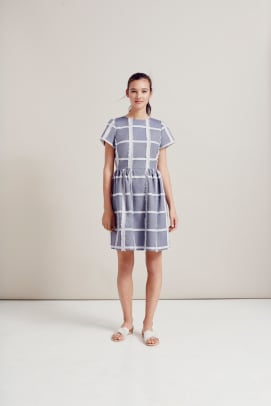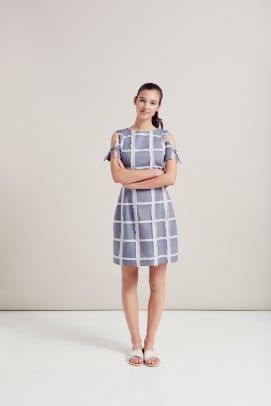 This interview has been edited and condensed.
Never miss the latest fashion industry news. Sign up for the Fashionista daily newsletter.