The Models at Rick Owens Looked Like Something My Cat Might Cough Up (In a Good Way)
According to the designer, the clothes were meant to "reflect how we might one day calmly fold into the ether."
There were no visible penises nor human backpacks to speak of at Rick Owens' fall show Thursday. And at the risk of sounding obvious, experiencing his show in person is quite different from seeing images on social media, where the aforementioned rebellious show elements were ridiculed — and, in fact, did look pretty ridiculous out of context.
The same can be said of the giant hairballs Owens' hair stylist Duffy put on several models' heads for the designer's fall 2016 show. At first glance, paired with matching, nearly-monochrome looks in putrid shades of grey and green, the models were truly reminiscent of what my cat occasionally coughs up. Some dresses were even made of a fuzzy, hairlike material.
But looking more closely, the collection comprised an assortment of beautifully hand-draped, nebulously shaped dresses, jackets, skirts and garments that defy categorization, in materials ranging from the aforementioned fuzzy knits to a thick leather, to a quilted down. The clothes showed a softer side of Owens — though altogether, the models looked like members of some post-apocalyptic society, ready to take on anything in their thigh-high leather sneaker boots, a collaboration with Adidas.
The show notes offered some surprising insight into the collection, as well, and compared to the lists of meaningless adjectives we usually receive to aid in our reviews of designers' collection, Owens' are quite entertaining. Take his explanation of the global warming theme that carried over from his men's collection:
The women's collection continues this theme of evolution with soft abstractions folding around the body in a way that could reflect how we might one day calmly fold into the ether. Like in a Dali painting. On Ayahuasca.
On deceased interior decorator Madeleine Castaing, the woman who inspired his use of green (and those hairballs):
Although it was a turquoise green she was known for, I liked this weird green she frequently accented it with. And her habit of wearing a wig held on with an elastic chin strap had a couldn't-care-less-in-waning-years attitude we could all take to heart when facing any kind of decline.
Also, the labels sewn into the garments are likely very sticky:
As with the men's, this collection is labeled with a one-time-only Owenscorp label that has been dipped into the honey produced by the bees my better half, Hun, impulsively installed on the roof of our house. 
And, finally, his favorite-ever quote, by Salvadore Dali:
I don't do drugs, I am drugs.
The music, a loud, stress-inducing Moombahton tune with approximately 1,000 beat drops, contributed to the show's aggressive tone, though according to those show notes it was meant to feel "uplifting." By the time the dead-eyed models charged the runway in a group for the show's finale, I started to feel actual fear. I think part of it had to do with the ghost-like, otherworldy lightness of Owens' silhouettes. Plus, those hairballs are undeniably unsettling.
Browse the entire scary-yet-beautiful collection below.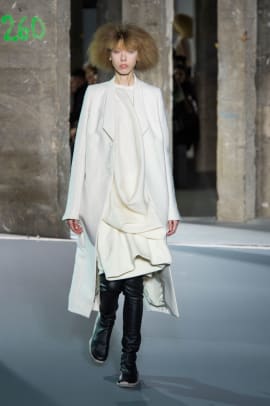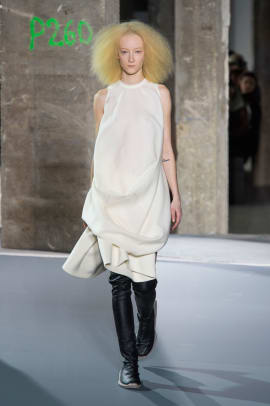 Want the latest fashion industry news first? Sign up for our daily newsletter.