Rihanna and Manolo Blahnik Collaborated On a Limited-Edition Capsule Collection
Featuring thigh-high boots that "will get you kidnapped."
Rihanna is adding another exciting project to her busy fashion plate. Less than a month after the singer and influential style star presented her first ready-to-wear collection in collaboration with Puma at New York Fashion Week, she and footwear legend Manolo Blahnik have announced a new joint project. Together they have designed a limited-edition capsule collection of six pairs of BadGalRiri approved shoes, priced from $895 to $3995. 
As if demand for anything designed by Rihanna isn't high enough already (her Puma creepers sold out fast in September and the February releases are also proving popular), this capsule will only be available at three Manolo Blahnik stores —London, New York and Hong Kong — starting on May 5 in limited quantities. Now that's serious exclusivity. 
The shoes are sexy in a signature Blahnik way with tall, thin stiletto heels and pointed toes. But Rihanna and the designer focused on denim as their core material, embellished by sequins and embroidery inspired by the singer's hand tattoos. And for fans of the singer's loud, statement-making style, she's delivered the truly outrageous "9 to 5" thigh-high stiletto boot complete with... a sparkly garter attachment? "Those boots are dangerous," Rihanna told British Vogue. "If you're trying to get back home to your bed, don't wear them boots! You will get kidnapped in those boots, those boots are trouble." You heard it here first, people. You have been warned.
See images of Rihanna and Manolo Blahnik's capsule collection below.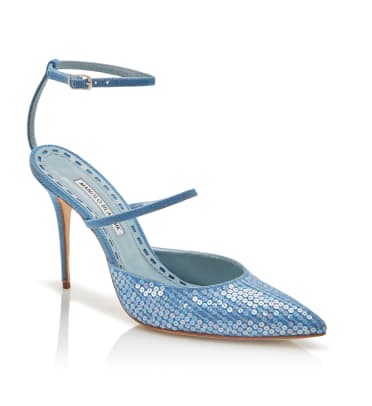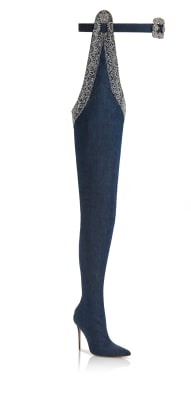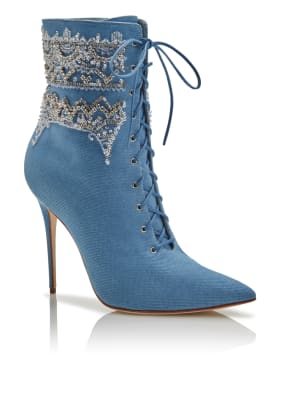 Note: This story has been updated to attribute Rihanna's quote to British Vogue.