She's in the Glow Is Seeking Digital Marketing, Editorial & Social Media Interns In NYC
She's in the Glow, a fast growing beauty blog, is looking for an Digital Marketing, Editorial and Social Intern. The intern will play an integral part of the blog's growth and will assume a significant degree of responsibility.
She's in the Glow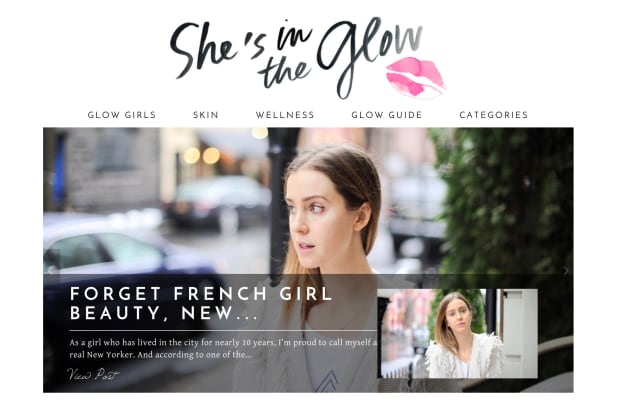 She's in the Glow, a fast growing beauty blog, is looking for a Digital Marketing, Editorial and Social Media Intern. She's in the Glow has been featured in numerous print publications and online – Chalkboard Magazine, Well + Good, Barneys, Teen Vogue, Nylon Magazine, InStyle, Refinery 29, Self Magazine, Stylecaster and more.
The Intern will play an integral part of the blog's growth and will assume a significant degree of responsibility. This position is responsible for growth and engagement across all branded external digital communities and will serve as the internal social expert within the brand. The intern must be proactive, creative and dynamic.
The ideal candidate is a Masters Candidate related to social media, journalist, beauty, art, PR, or digital marketing. Undergraduate candidates with relevant skill sets and interests will be considered. The perfect candidate must display a genuine curiosity and interest in both beauty and fashion and must be able to demonstrate a strong commercial aptitude for business development tasks, social media, marketing and public relations.
She's in the Glow is an exciting and fast paced entrepreneurial environment - enthusiasm and team work will be met with a steep learning curve and the possibility of a permanent position. The faster the brand grows, the faster a permanent position will become available.
Primary responsibilities include, but are not limited to, the following:
Social Media & Digital Strategy
Experiment with new and alternative ways to leverage social media activities to gain insights into customer behavior and buying patterns.
Stay current on new trends, contests, and media platforms pertaining to social activity.
Help sharing all SITG stories of all platforms, as well as the intern's own personal platforms. SITG typically produces three stories a week, usually Monday, Wednesday and Friday.
Respond promptly to customer feedback and messages and ensure that our social media customer experience lives up to our brand promise
Hootsuite: Scheduling tweets to promote She's in the Glow and all stories, past and current.
Pinterest: Expand & manage She's in the Glow Pinterest page.
Pinterest: Pin all products from 'shop the story' section under each post.
Increase Instagram following
Shoppability
In all past stories that don't have the "Shop the Story feature," adding all 'still' images and Rewardstyle links below each story.
Editorial Calendar
Develop and maintain an ongoing global content calendar.
Organization
Beauty Samples: Edit, organize and request and inventory/ give away samples.
Organize all relevant PR and beauty contacts.
Photography
Editing Photos: Using Photoshop or Apple iPhoto.
Organize and achieve all images.
Creativity and Writing
Creating Beauty Content: Research, Develop and Pitch editorial content for beauty stories on a weekly basis.
Writing: Creating original content for She's in the Glow. I love the idea of an ongoing series. Come up with one theme, something that really speaks to you, and your peers, and delivering that same story every month. For example, you could write a "trend report," each month…or "inspired by"…. "Drugstore," this could be anything. But regardless, readers would be able to expect that same theme, every month.
Special Events
Develop Special Events: Idea origination, planning and implementation.
Teamwork and creative 'out of the box' thinking: Both essential qualities to a successful experience.
Editing
Proofread and edit all stories for She's in the Glow, as well as all contributing work on other platforms.
To apply, please send your resume to annie@shesintheglow.com. School credit only