Valentino Brings Us Into the Present With a Beautiful Ballet-Inspired Collection
Complete with fluid jersey dresses, tutus and ballet flats.
Like at Saint Laurent and Chanel, the Valentino show seemed at least partially born out of a reaction against the Instagram-ification of fashion shows and the current preoccupation with the "see now, buy now" concept. According to the brand's show notes, Maria Grazia Chiuri and Pierpaolo Piccioli aimed to "offer a reply to chaos and to the uncertainty of present times, stepping away from virtuality in order to discover the essence of the contemporary in the unrepeatable physicality of an emotion: in experiences that need to be truly lived, in person, and that no digital instrument can fully reinstate." To this end, a live pianist played out the entire show from a grand piano staged in the middle of the runway.
Without creating a distraction, the classical music set an emotional tone for the show; the ballet-influenced collection itself took center stage against a simple black runway as we sat on ballet-pink velvet cushions that lined the risers in the Tuilleries show space.
The ballet reference manifested literally in tutu-inspired frocks and several light, easy dresses layered over leotards, the way a dancer might dress on her way to class — a concept that carried over to dresses layered over knit turtlenecks as well. Hair was styled into slightly imperfect buns. Chiuri and Piccioli's dance inspiration wasn't just surface-level, though; they specifically called out the styles of influential ballet and modern dance choreographers Karole Armitage, Martha Graham and Merce Cunningham. They even referenced the narrative (or lack thereof) of a typical ballet production.
The resulting collection felt more delicate and casual than what we're used to from the brand, known for its high necklines and elaborate embroideries, and also had less of an obvious narrative than, say, spring 2016's African-inspired collection (not to mention less cultural appropriation). In fact, it felt more suitable for everyday life, with the models wearing practical shoes like combat boots and ballet flats. Of course, the eveningwear section provided the Valentino fan with the dazzling embroideries, cape silhouettes, ruffles, sparkles, star motifs and florals she wants to see, in addition to many subtler, nude-colored options that were also distractingly pretty in their weightlessness and simplicity. All of the above have us excited for upcoming red carpet events.
The finale received the longest and most enthusiastic applause I've heard all week, perhaps because we were subconsciously deterred from using the "digital instruments" that often hold our attention as a runway show nears its end. Bravo, Valentino.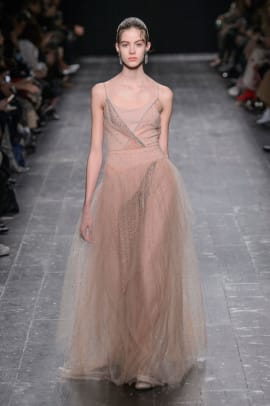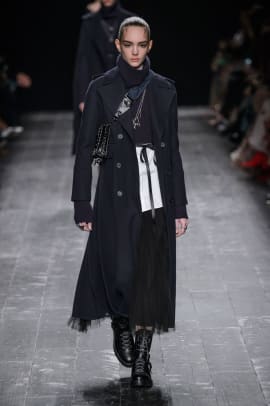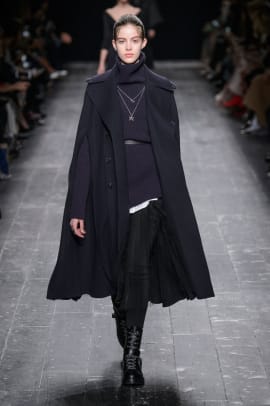 Want the latest fashion industry news first? Sign up for our daily newsletter.