Why Alexa Chung Is Skipping Coachella for the First Time in 10 Years
We chatted with the style star about tech, her next docuseries and the death of chokers.
For someone not going to Coachella this weekend, Alexa Chung hosted one hell of kick-off party. On Thursday, the model/documentarian/"It" Girl feted the West Coast launch of her new fashion app Villoid with a casual afternoon tea at the Roosevelt Hotel in Hollywood, complete with Pimm's Cups, scones with Devon cream, kitsch paper garlands and banners that read "Nochella."
Chung decided not to attend Coachella this year (more on that below), but she told us that many of her friends are in town for the festival, and her contingent of cool, good-looking Brits was in full attendance. Wearing an outfit that only she could pull off — a hot pink slip dress she "picked up in the underwear department of Selfridges last week," and black Converse hightops—Chung mingled with guests including friends Poppy Delevingne, Kelly Osborne, Leigh Lezark and Mark Ronson.
As Chung adds "tech entrepreneur" to her ever-growing list of job titles, we chatted with her about the challenges of startups, her British Vogue docuseries and why she's skipping Coachella for the first time in 10 years.
Who are some of your favorites to follow on Villoid?
Tia Nash, that's one of our number ones. Astral Birds, another super user, and then just my friends, like Pixie Geldof, Daisy Lowe, Aimee Phillips. Brand wise — it's funny because I don't know if brands have figured out that they can have their own page as a brand — so I follow House of Holland, but besides that, all the brands I follow are the ones that you inherit when you sign up, so all of them, A to Zed.
How has working on an app changed your view of the tech industry and startups?
I think as a startup, it's time-intensive and you don't have the manpower that perhaps might make things a bit easier, but the benefit of that is at least you are all on the same page and working together for a common goal. For me, this is a territory that I am completely unfamiliar with, so things that I think could be turned around really quickly, I realized that in the tech world, you have to write an algorithm to make that button do that thing. So that's the challenge, understanding that coding takes longer than it seems.
Your British Vogue "Future of Fashion" series is about to be in its third season. What can we expect?
Season one was, "What is fashion? Are you all wankers?" Season two was "No you're not! You're all amazing, but how do you start a business?" We're tying to figure out season three right now, but it will focus on sustainability, technology, all these things.
Are you staying on the west coast for Coachella this weekend?
No, thank you.
Are you over it?
No, not over it. I think it's great, I just don't really feel like it. Last year's inability to escape the site with any speed—like I waited three hours for a taxi—really just put me off. I don't want to badmouth Coachella because I have literally been every year for the past 10 years and have had the best time of my life, but not being able to drink where you want to drink is a very difficult for a British person to withstand, and designated drinking areas and VIP bits just make it all seem a little much.
I don't want to be told off every five minutes, I do want to drink when I'm watching a band, and I just need something a little bit freer. That said, literally some of the best times of my life have taken place at Coachella.
Have you been following the fashion from last weekend? Looks like the choker is the new flower crown…
Oh my God, the choker is so dead. No, thank you. (Laughs) No, it's fine. Look, everyone can do whatever they want, but I do think there is a certain thing with trends when they reach a tipping point and that tipping point to me, with the choker, seems to have happened a few months ago. But they look cool, so, get it! 
More scenes from the party in the gallery below.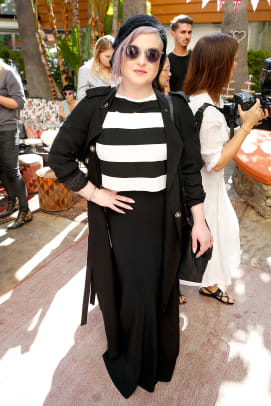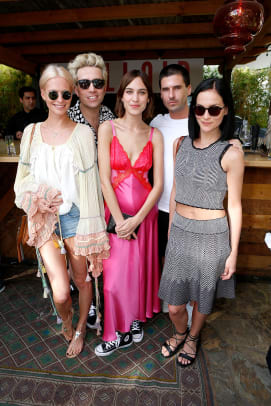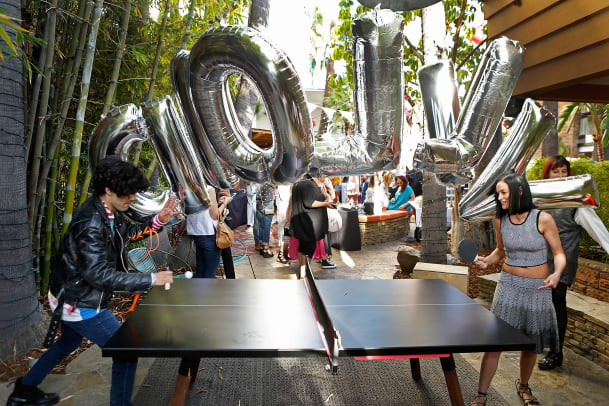 Want the latest fashion industry news first? Sign up for our daily newsletter.