See What Celebrities Wore to the Coachella Weekend 1 Parties
Kylie Jenner, Kiernan Shipka, Bella Hadid and more stayed away from (some) festival fashion tropes.
Unless you've been living under a rock (#nochella), you may have noticed that the year's most well-documented music festival kicked off its first leg in Indio near Palm Springs, Calif. this weekend. All the cool kids including the Jenner sisters, Hailey Baldwin, Suki Waterhouse, Devon Windsor, Kiernan Shipka and, of course, Vanessa Hudgens were out in full force at Coachella. And while elusive A-listers like Taylor Swift and Lorde mostly hung at private parties, everyone else hit up sponsored ones from brands like H&M, Calvin Klein, Revolve, Levi's, Solid & Striped, Popsugar and... McDonalds? That's right. What better way to celebrate the fast food chain's all day breakfast options that with a celebrity-filled all day breakfast party? 
We saw less fringe than expected this year, probably thanks to festival fashion fatigue, while other trends took precedence, including chokers, cutoff shorts, shorteralls, denim on denim (Bella Hadid and The Weeknd quadrupled their denim as a pair) and white lace. See all the celebrity looks from all the parties this weekend in the gallery below. And check out the weekend's beauty transformations here.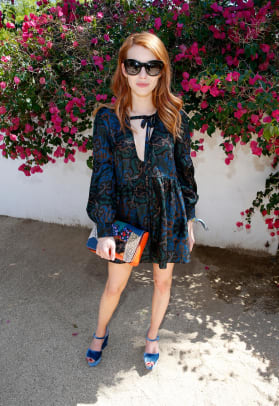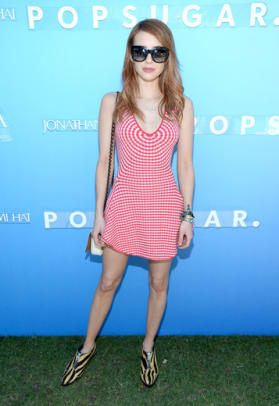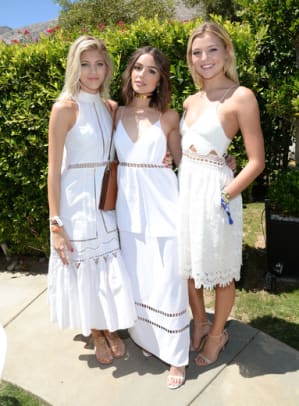 Homepage photo: Emily Ratajkowski, Poppy Delevingne and Leigh Lezark at the Shopbop & Poppy Delevingne Coachella Pool Party. Photo: Derek Kettela