Stone Fox Bride Partners with Eloquii to Launch Plus Size Gowns
The fast fashion brand will bring Stone Fox Bride's core dresses to a larger size range.
While the plus-size market continues to grow, there are still plenty of gaps to be filled for the underserved consumer group. Bridal is one such opportunity for brands, and now, two companies are teaming up to move into the space.
Stone Fox Bride, known for its boho approach to bridal dressing, has tapped plus-size brand Eloquii to partner on a collection of plus-size bridal gowns. It encompasses five key styles from Stone Fox Bride's main collection: The Valentina, the Glenda, the Milly, the Frederika, and the Lucinda. Molly Guy, Stone Fox Bride's creative director, reached out to Eloquii on the recommendation of writer Nicolette Mason and Muse model agent Becca Thorpe.
"I have been really wanting to do our core styles in plus sizes for a while, and we're just a tiny startup and we're constantly so slammed," Guy tells Fashionista. "I really vowed to make it a priority for this season, so I reached out to two of my friends who are big players in the plus space [and] I asked both of them who is the frontrunner that's doing really cool, innovative high fashion stuff."
For Eloquii, which recently raised $15 million in funding, this partnership represented an opportunity to branch out into a new space. Currently, it doesn't involve any design input on creative director Jodi Arnold's end; instead, her team is taking existing Stone Fox Bride gowns and applying their fit and proportion know-how to expand the line into sizes 16 through 24. It's an easy way to dip their toe in the water.
"We are eager to get into any category where we feel the customer has been underserved," Arnold says. "We had discussions internally about [bridal] but didn't know how to go about doing it, so we were really so excited when Molly reached out to us. We knew her brand and thought it would be such a great fit for us."
Guy says that while she has been able to create gowns for her plus-size customers from custom patterns, it's been frustrating to not be able to offer something to them in an easier way. "I founded my company to create a really beautiful, mellow, easygoing space for women to come in and attempt to find their authentic self on their wedding day, both materially and spiritually," she says. "When a client comes in who can't fit into the dresses on the rack, it always puts a damper on their bridal experience. While we have been able to make custom dresses, the fact that Eloquii is now enabling us to have them on our racks is really incredible." 
Would-be brides should know that these gowns don't come at Eloquii prices, which are typically in-line with fast-fashion brands; rather, brides to be will be shelling out between $4,350 and $6,800. But then, they're not made from fast-fashion materials either. The custom gowns are made up from georgette and silk fabrics, just like the rest of Stone Fox Bride's line. "I really don't think there's going to be any backlash about that," Arnold says. "I think [the customer is] going to be so happy that this kind of aesthetic is going to be offered for her."
For those looking to stay in Eloquii territory, Guy has also curated a selection of the brand's dresses which can be worn through wedding season on its website. And while Guy and Arnold both say that the experience of working together was a "seamless and fun" partnership, there's nothing on the books for the future — at least, not yet. 
See the full Stone Fox Bride x Eloquii line below: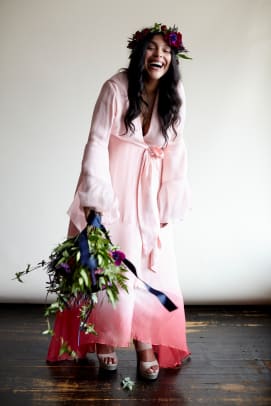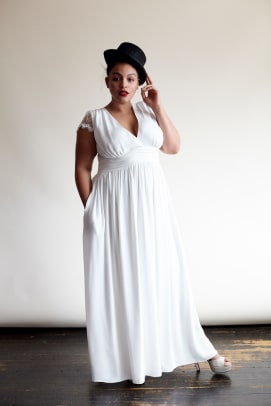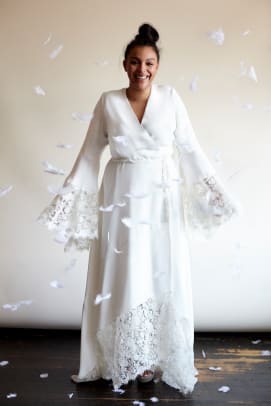 Sign up for our daily newsletter and get the latest industry news in your inbox every day.