Hailey Baldwin Lands First Major U.S. Cover With 'Marie Claire'
She's one of five "fresh faces" featured on the Hearst title's May issue.
Hailey Baldwin is having a pretty great month: The model and celebrity offspring (redundant, we know) signed with IMG in March and released a cool, '90s-inspired campaign for Tommy Hilfiger just last week. Now Baldwin has taken the next step in model ascendancy — her first major U.S. magazine cover. She's one of five "fresh faces" featured on Marie Claire's May 2016 issue, alongside ladies who are no longer exactly up-and-coming: Kylie Jenner, Zendaya, Ellie Goulding and Gugu Mbatha-Raw. (While Mbatha-Raw is not a quite a household name like the other women, the respected actress has already appeared on the covers of Elle and Town & Country.) It seems like "fresh" is a flexible term for the magazine: Last year's edition included Iggy Azalea, Felicity Jones, Zoë Kravitz, Hailee Steinfeld and Kate Upton, all of whom were already well-established in both their careers and pop culture.
Baldwin shines on the new cover in Tommy Hilfiger (of course) and chats inside about her high-profile are-they-or-aren't-they relationship with a certain young Canadian. Meanwhile, Jenner shows off a more natural makeup look than we're used to seeing from her and wears a Hugo Boss dress — which explains why she was sitting front row at the fall show next to Marie Claire's Creative Director Nina Garcia in February. 
See a preview of the interviews here and pick up the issues when they hit newsstands on April 19. For the rest of the covers, click through the gallery below.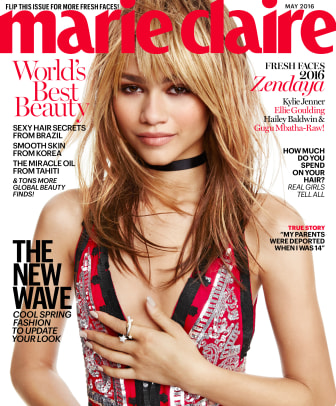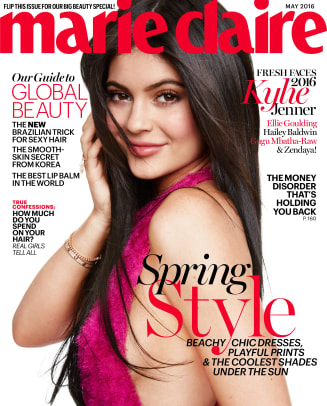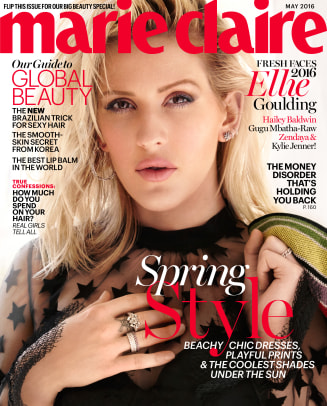 Want the latest fashion industry news first? Sign up for our daily newsletter.