Two 'Vogue' Alums Launch a New Luxury Brand All About Stripes
Meredith Melling and Valerie Boster team up with Molly Howard from Rag & Bone for their latest project, La Ligne.
Lines and stripes are classic prints that never, ever go out of style — at least, that's what Vogue veteran and fashion entrepreneur Meredith Melling and her business partners, Valerie Boster, also previously of Vogue, and Molly Howard, Rag & Bone's former business development lead, are banking on. This morning, the trio are launching La Ligne, a direct-to-consumer luxury apparel brand that offers sartorial interpretations of — you guessed it, especially if you took high school French — lines. 
"It's something that Meredith, Molly and myself have always been obsessed with," said Boster about the linear print as she walked Fashionista through La Ligne's debut collection. "We just didn't feel like there was a brand out there that really standing for it and owning it." 
Produced in New York, La Ligne is comprised of two collections that will easily be embraced by the fashion editor crowd — if the avid attendance and enthusiastic reaction at the presentation was any indication. There's Essentials, which offer the core wardrobe staples available every season, such as: a soft T-shirt cheekily embroidered with "I'm with la bande," stripe-y button-downs, crisp shirt-dresses, a flight suit with a wide stripe here and there (total fashion girl bait) and an elongated-sleeve cashmere sweater worn by Boster. And there's the Edition, which offers seasonal interpretations of lines, like a contrast striped slip dress and an off-the-shoulder blouse-y crop top. With the direct-to-consumer model, Melling and co. can offer upgraded fabrics — silk, cashmere and high quality cotton — and keep the pricing all under $550.
Melling and Boster previously worked together at Vogue, where they held the senior market editor and bookings editor positions, respectively. They both left their longtime, prestigious jobs in 2013 to found La Marque, a full-service branding and consulting agency, which will be evolving (more on that below). Melling tell us more about how the two transitioned from editorial to consulting to fashion design, how Leandra Medine and Lily Aldridge are involved with the line, and why the partners are such Francophiles when it comes to naming their endeavors.
So you've done editorial and brand consulting. What led you into fashion retail? 
My perspective on the landscape was definitely informed by my 16 years working as a market editor at Vogue and seeing everything that was out there. Trends would come and go, but stripes were perennial. Every season for almost every story, we were calling in a rack of stripes — whether it was to punctuate for styling or if it was the main trend of the story. So when I left Vogue and we started working on the brand side via our consultancy La Marque, this idea was brewing. But I was also working so closely with young designers at the CFDA Vogue Fashion Fund that I knew that starting your own line is a real uphill battle, no matter how you do it, whether you wholesale or you're direct to consumer. There are endless challenges and I didn't feel like I knew enough to do it right out of the gate, so we spent our time consulting, learning the brand side a little bit more and becoming even more intimate with the challenges. In that period, we met Molly Howard, our third founder, and she really brought the business acumen to the concept. The three of us got together and built it from the ground up. 
I was just saying to another guest here today, 'there's so much change in the fashion industry right now,' with designer turnover and things like that. I feel like we're at a time where there is no normal path to starting a collection. There's no trajectory we all want to follow. It's a real time to carve your own way, so by going direct-to-consumer and with one wholesale partner — we're selling through Net-a-Porter — and really focusing on high quality content and a ton of voice and high quality product, we're going to try and make an impact in a unique way.
So what brought you to work with Leandra Medine of Man Repeller for the La Ligne photo shoot?
One of the things we always talk about at La Ligne is our community and how the brand is really being built by community. For starters, we have three founders — it's not a solitary effort. Leandra is on our board of advisors, but the images we shot on her were part of a portrait series that we did called 'In Line.' For 'In Line,' we selected 40 women from our community. They're friends, family members, people we had met  — whether it was from our Vogue days or La Marque days or Molly's Rag & Bone days — and we asked them to participate in a portrait series. We have [different] body types, personal styles — a wide variety of women — and we task them each to pick a piece from the collection that was their favorite. They styled it their own way, whether they wore it head-to-toe or mixed it back to their favorite leather jacket and jeans. We're releasing six of those portraits this week when we launch and then two per week afterwards. Phyllis Mailman, who is 91, is in our launch. Natalie Uhling is a trainer and an Under Armour athlete, so she's super fit. We also gave each of them a questionnaire called 'Line by Line,' where we get a little bit more information from them. (Click through the gallery below for more exclusive shots from Medine's In Line shoot for La Ligne.)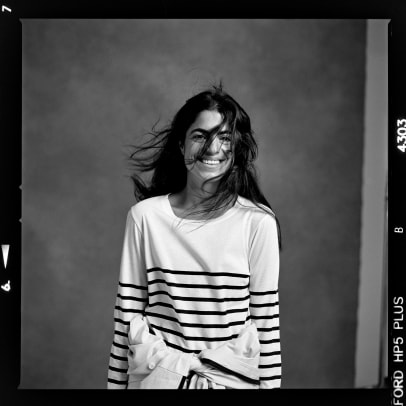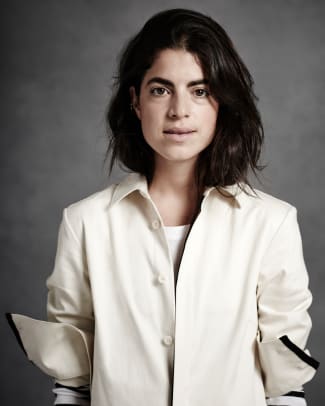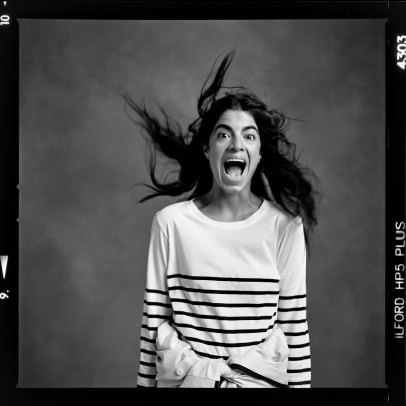 How will La Ligne relate to La Marque?
La Marque is going to become exclusively a wardrobe styling consultancy, so we think that they can be very simpatico. For instance, for our launch, Lily Aldridge, who's a big La Marque client, very generously modeled our Essentials collection for us, and we have people that work on the La Marque team who are able to continue that for La Ligne.
So La Marque will focus on celebrity styling?
Right now we work with Lily Aldridge, Joan Smalls and Candice Swanepoel. Valerie was the bookings editor at Vogue, so we have a lot of model relationships. If those are our only clients for the rest of La Marque's time, that would be great. If we take on new clients, that's also great.
You left Vogue in 2013. Even though it was three years ago, at the time it was still pretty pioneering to leave a prestigious print role to start your own venture, whereas nowadays, it's much more prevalent, forced or not. Did you feel like you got out at a good time? Did you see where the industry was going?
In my last couple of years at the magazine, I spent a lot of time working on vogue.com as well, and it gave me a different perspective on the way people were consuming information. It certainly trained me to consume information in a different way, because when I was just working on the print magazine, I would look at all the other print magazines to compare and contrast. Once I started working on vogue.com, I really was looking at all the bloggers and all the other websites and just the immediacy of information. 
It was hard to leave Vogue. I loved my job, it was a great job, and there were a lot of things not just happening in the industry, but in my own personal life [which] brought me to the decision that it was time to move on and do something different — and Valerie happened to be feeling the same way. I think it was a combination of things, but I do still read my Vogue every month, cover-to-cover, and I'm so grateful to have our story in this month's issue. But I have a lot of friends [in the industry] and it's a challenging time overall from the media side to the brand side. Everywhere.
OK, last question: La Ligne, La Marque — why always French words?
Because it's just so chic. It's always a play on words, we love a play on words. 'La Marque' obviously means the brand and we were going out to work more on the brand side. But we also liked the idea of making art and playing around with that. La Ligne means 'the line' and stripes and the endless play on words with line. It just worked out that way.
Sign up for our daily newsletter and get the latest industry news in your inbox every day.