Presenting the David Bowie Alien-Inspired Bridal Collection You've Been Waiting For
With a possible 'Game of Thrones' reference thrown in.

The late David Bowie's extensive influence on fashion ranges from multiple Kate Moss Vogue covers to memorable runway moments by designers like Jean Paul Gaultier and Hedi Slimane for Saint Laurent. So it was only a matter of time before the legendary singer and actor extraordinaire's imprint hit the bridal market... right? Namely, the spring 2017 collection by Theia, which showed during New York bridal week on Thursday.
Now, Theia designer Don O'Neill is known for incorporating cultural references into his collections. The faux snowfall and pastel blue dress in his spring 2015 show immediately brought "Frozen" to mind. And this time, O'Neill really went esoteric with his inspiration, first drawing from a futuristic-looking underwater photograph by Rafal Makiela and Bowie's 1976 alien movie, "The Man Who Fell To Earth." There's a very sweet backstory, too: O'Neill is getting married this year and is feeling that "the essence of love is white light." Hence the outer worldly theme that was also represented on what looked like a foil covered runway and backsplash.
I'll admit to never having seen the classic Bowie film, but a quick Wikipedia synopsis reveals that the icon's very dapper and human-looking alien character comes to earth in search of a water source. He ends up succumbing to very human vices: too much sex, alcohol dependency and a TV addiction. At some point, Bowie wears what looks like a silvery hooded bodysuit with a clear headpiece layered over it — an accessory translated for the bridal runway as beaded and embroidered swim caps. (Although, with the models' warrior-esque icy blond braid-and-pony-tail combo, some of them brought the "Game of Thrones" Unsullied Army to mind, too.) 
The outer galaxy theme could also be seen in the clear vinyl paneling (not sure of the comfort level, but it can't be any more binding than shapewear), iceberg-blue and silvery color palette, a python-embossed halter gown and a wavy patterned 3-D paillette dress that actually reminded me of the reptilian aliens on the TV show, "V." O'Neill went super literal with the space-age motif via a silver, floral embellished brace type thing that looked like an orbital path, sculpted metallic and vinyl wing-like flames and a structured high-neck collar that kind of looked like an exaggerated Elizabethan collar or a lace version of a doggy cone. Either way, I applaud the editorial license with bridal fashion. Weddings should be fun, too, right?
Another possible "The Man Who Fell To Earth" reference: There's a scene where a shirtless Bowie checks out his nipples in the mirror (maybe '70s era aliens don't have those?) and I swear a long-sleeve and very sheer embroidered illusion gown had strategically placed sequin and bead detailing that resembled a nip. Just saying.
You be the judge and check out the entire collection below.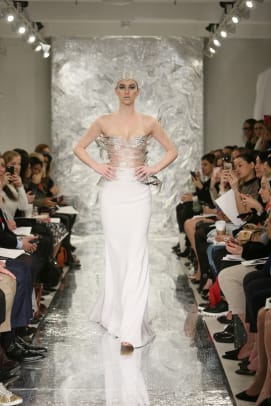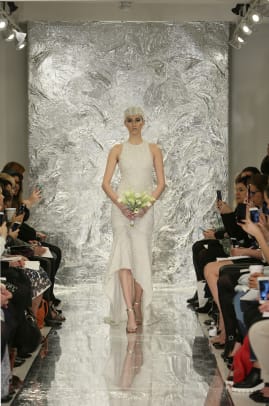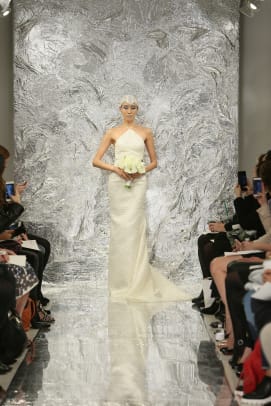 Want the latest fashion industry news first? Sign up for our daily newsletter.