Inside Barcelona's Bridal Week: Victoria's Secret Angels, Bloggers and Sexy Gowns
How Europe's oldest bridal brand is using famous models and influencer marketing to reach American consumers.
After New York City's bridal week — during which we observed a David Bowie tribute and lots of skin — came to a close last month, the sartorial wedding madness continued on other side of the world. Each April, the cosmopolitan Spanish capital of Barcelona becomes the — albeit self-described — world's bridal capital, with a trade show featuring 260 brands (58 percent of which are international), approximately 400 international buyers in attendance and 21 runway shows. Each year, Barcelona Bridal Fashion Week also invites at least one U.S.-based designer to showcase. This year, Kate Middleton favorite Naeem Khan brought his multiculturally inspired spring 2017 collection overseas. The week culminates in a spectacular catwalk held by homegrown heritage label, Pronovias.
A third-generation family business founded in Barcelona over 50 years ago, Pronovias is both the oldest bridal brand and the first to introduce bridal ready-to-wear — or "pret-a-porter," as they say — in Europe, according to communication and public relations manager Mariona Sans. In Europe, Asia and South America, basically everywhere that isn't the U.S., Pronovias is a household name in bridalwear. The company's big goal for near future is to expand its Stateside presence, including opening stores in Los Angeles and Miami to complement the lone Stateside flagship on 52nd street in New York.
But that doesn't mean designing specifically for the American market. "We always say that at Pronovias, we are not doing collections for the different markets," Sans told Fashionista at the runway show. "We are doing global collections, but including the different trends that can fit in the different markets." Fortunately, Europeans also have an affinity for open backs, plunging necklines and illusion dresses — all trends that dominated the bridal runways in New York. 
In an effort to compete with the brand awareness of Vera Wang and Oscar de la Renta among the American bridal audience, Pronovias is speaking to us in the language we understand best: influencer marketing. That includes collaborations with the social media stars we Americans know and (maybe) love: Rumi Neely, the now-Los Angeles-based Chiara Ferragni of the Blonde Salad (#notstopping), Hollywood/Kennedy scion Katherine Schwartzenegger and "The City" star Whitney Port, who all attended the Atelier Pronovias spring 2017 runway show last Friday. While Pronovias showed at New York bridal week for the first time last October, the brand really pulled out the big guns at home with an extravagant show at the Italian Pavilion next to the famous Magic Fountain of Montjuïc in the Plaça Espagna. (Think Las Vegas's Bellagio fountain, but way, way better.)
Attended by an unheard of 2,000 guests, including international press, wholesale clients, VIPs and company staff, the show featured 46 looks full of intricate hand-embroidery, loads of Swarovski crystals and colored gemstones, beautiful Spanish lace, majestic trains and a fair amount of illusion elements, all made in-house at the Pronovias atelier. The American guests in attendance may have noticed creative director Hervé Moreau's selection of minimalist silk crepe gowns inspired by the late Carolyn Bessette-Kennedy. "She had this wonderful, but most pure and the simplest gown possible," the French designer told us before the show (via a translator). The trends were pretty much on par with what we saw in New York, but Spanish audiences have a penchant for enthusiastically clapping when they see a dress they like, while New York show-goers sit in stoic silence (or tap away on their phones).
The applause could have also been a delighted reaction to the impressive model lineup. Proving that Victoria's Secret Angels and Sports Illustrated models are pretty much a universal way to resonate with an audience, Irina Shayk opened and closed the show, while current Angel Romee Strijd, VS runway alum Jac Jagaciak, Cindy Bruna and Kate Grigorieva all walked as well.
"I like very much the idea of sensuality in my work," Moreau said. "So I don't want to have girls who walk with serious and closed faces. It's just the opposite and that's a similarity with the Victoria's Secret shows, also. The girls are always smiling. They seem like they are happy to be there and that's what I want it to be during my show."
Plus, let's be honest, there isn't that much of a difference between modeling bedazzled bra sets and wedding gowns given the proliferation of sexy, skin-baring bridal wear nowadays.
Click through the slideshow below for shots of Shayk and the Victoria's Secret Angels in Atelier Pronovias bridal gowns.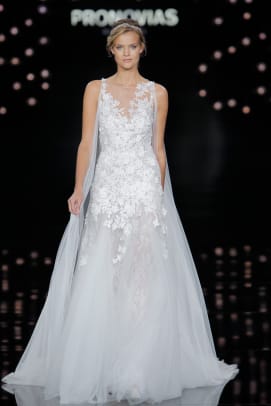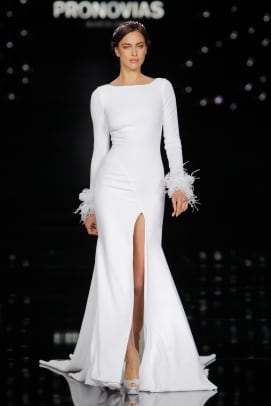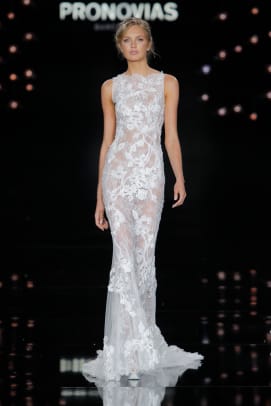 Disclosure: Pronovias provided my travel and accommodations to attend and cover the show in Barcelona.