Calvin Klein's Spring 2016 Global Campaign Is Insanely Sexual
These are some stirring photos, folks.
If Calvin Klein has one calling card, it's the brand's tendency to release somewhat — nah, overtly — suggestive ad campaigns. That sexuality is hardwired into the brand's DNA, and Calvin Klein, the person, will be the first to admit it. Over the years, we've learned to prepare ourselves for a certain amount of shock-and-awe to be delivered alongside any new campaign imagery (its fall 2015 sexting-themed ads, anyone?). But its latest set is a completely different story. 
As in: These are some sexy photos, folks.
For spring 2016, Calvin Klein tapped a slew of its go-to faces, including Kendall Jenner and Abbey Lee Kershaw, for a wildly NSFW campaign that has been burned in our retinas since we first laid eyes on it on Monday. In one image, above, Jenner poses with a grapefruit that not-so-subtly resembles a part of female anatomy; in another, below, an unnamed model wears a pair of jeans backwards to showcase what Urban Dictionary calls a "belfie." Harley Weir, per recent tradition, photographed the ads, which we saw via Fashion Copious.
Yep! 
The clothes here, as has often been the case with Calvin Klein advertisements, are secondary to the raciness at hand, but are we wrong to say that these images are more provocative than we've seen in the recent past? And as the brand continues to yearn for a younger customer (like casting a Vine star in a denim campaign, for instance), it's clear that it will only continue to pull out all the stops for that age group. Will the label's yet to be named new creative director continue with this vision and steamy branding? And will this particularly sexual campaign live in a digital-only capacity? Calvin Klein didn't immediately respond to our request for comment, but we'll update this post as we learn more.
Click ahead to see all the photos from Calvin Klein's spring 2016 campaign.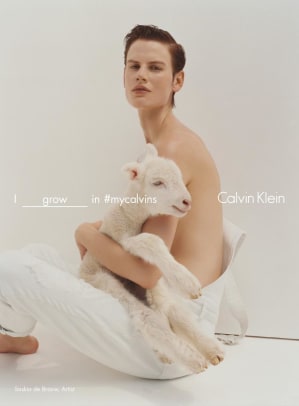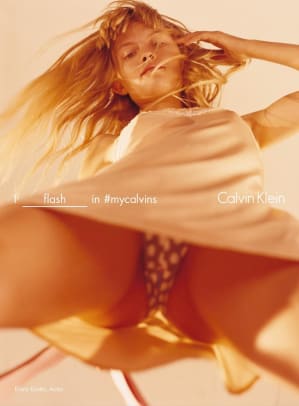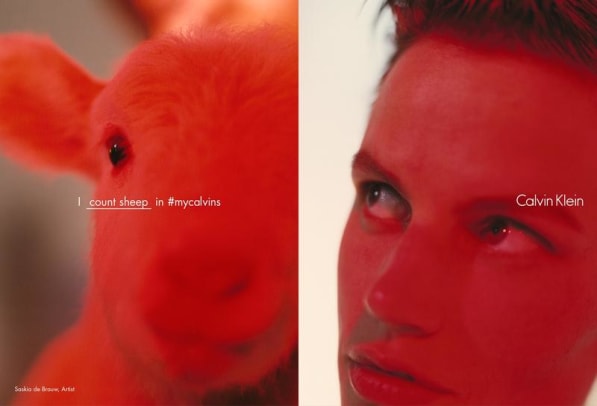 Never miss the latest fashion industry news. Sign up for the Fashionista daily newsletter.
Note: This story has been updated to remove the "Erotica" campaign name. According to a spokesperson for Calvin Klein, there is no official "name" for this campaign.