Kristen Stewart's Stylist Breaks Down Her Chanel Looks From the 2016 Cannes Film Festival
According to Tara Swennen, the actress's platinum blonde bob played a big part in dictating each outfit.
"I love styling these events. It's thrilling every single time," says stylist Tara Swennen, who just wrapped up dressing Kristen Stewart for the 2016 Cannes Film Festival, the actress's third year attending. With Stewart starring in two films at Cannes, Swennen had a lot on her plate and, for the first time, she had the opportunity to attend the glamour-filled event alongside the actress rather than sending her overseas with a slew of pre-planned outfits. "We had some last-minute changes, so it's always nice to be on hand to help," says Swennen. (Perhaps referring to when she slashed a Chanel T-shirt in half for Stewart's first look on the Cannes red carpet?)
Stewart arrived in France with two premieres on deck: "Café Society," a 1930s piece directed by Woody Allen, and "Personal Shopper," a film set in Paris where Stewart's character is a personal shopper and a medium. Although Swennen used Stewart's movie roles to inspire her red carpet looks ("they had their own character and unique perspective, and each look could tell that story," she explains), it was her brand new platinum bob, which also made its debut at Cannes, that played a big part in dictating each outfit.
This isn't the first time that Swennen has used Stewart's transformative hairstyle as a source of inspiration: When the actress opted for a cropped cut in 2015, Swennen turned to laid-back suiting to showcase what she described as "sexy James Dean" hair while Stewart promoted the film "Still Alice" in New York City.
"I love every time she changes her hairdo," says Swennen. "It affects the entire look and so I was super-excited. It's fun, you could do a lot with it and I know and I'm in good hands with the hair and makeup team. Kristen is so amazing to work with, too, because she lets you play and explore your art. She's the perfect muse."
We caught up with Swennen over the phone from Cannes (ahead of her 12-hour flight back to Los Angeles) to talk about each of Stewart's daytime and red carpet looks — all Chanel, naturally. Click through the gallery to revisit each fantastic K. Stew ensemble, complete with Swennen's commentary.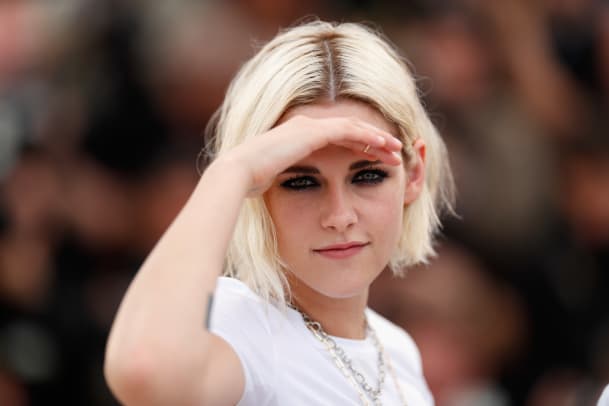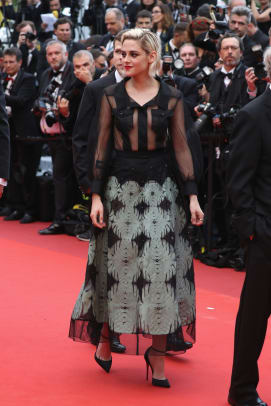 Want more Fashionista? Sign up for our daily newsletter and get us directly in your inbox.