Obey is Upgrading Its Women's Line For Fall
With a new head women's designer, the brand wants more eyes on its cut-and-sew collections.
When you hear the name Obey, associations with Shepard Fairey, street art or graphic T-shirts emblazoned with a red box logo — more on that later — usually come to mind. And if you weren't aware that the brand also offers a full-fledged women's line, that's not unusual, either. But with a new head designer, styling by Rachael Wang and a new retail relationship with Nordstrom, Obey is aiming for more eyes on its cut-and-sew offerings for women. The results so far are an elevated fall collection with a post-punk feel. "Punk rock can be overdone and costumey," says Grace Lee, who was promoted to head women's designer last year. "How you do you take the brand's roots and make it relevant?" 
The upcoming collection, Lee's debut in her new role, is particularly strong when it comes to outerwear: see an elongated MA-1-style jacket in a dark navy suede and a polka-dot bomber jacket lined with red satin. Obey's "El Diablo" oversized moto jacket features original artwork (a tongue-in-cheek "My florist is a dick" graphic adorns the lining) and is made from 100 percent leather. It retails for under $500. "We don't want to compete in the fast fashion world and join that race to the bottom," explains Lee. "We offer really well-and-fairly-made pieces that speak to the culture we live in."
According to Obey founders and brothers Steve and Mike Ternosky, the women's line has been around for 13 years to complement the men's line. But it was often overshadowed by it instead. "The Obey brand has always been so male-centric that it's tough for the women's line," says Mike, who runs men's design. "Grace has done an excellent job of immersing herself into our brand history and bringing a strong point of view and design aesthetic that has a weight and edge to it."
To bring this new vision for the Obey woman to life, the team tapped Allure fashion director Rachael Wang to style the fall collection's lookbook. "The inspiration came from Obey's roots in DIY, punk rock and skateboarding," says Wang, whose favorite pieces include mom jeans, tie-neck blouses and a shearling-trimmed jacket. "It was important for me to really honor those values while simultaneously expressing a modern femininity."
With skate culture, streetwear and athleisure all serving as inspiration points for a number of labels, both high and low, it's a good time for Obey to push its women's brand forward. It's currently available at Revolve and PacSun, as well as American Rag in Los Angeles, Trash & Vaudeville in New York, Seattle's Zebra Club and Azalea SF. Although a major department store like Nordstrom — which picked up Obey's line for fall — is a big get for the brand, specialty boutiques are still a priority for women's marketing manager Ayumi Hanaoka. "Maybe because I came from that world, but you really take the time and learn about brands in that atmosphere," she says. "And I feel like we have a lot of opportunity to grow here."
Obey is also spreading the word in other ways: in May, it will throw an event with American Two Shot, a boutique-gallery-coffee-shop hybrid in New York's Soho, and offer exclusive pieces (a satin varsity jacket and T-shirt) with a "Be Nice or Leave" graphic logo. Obey is also collaborating with Tamara Santibanez, a tattoo artist and close friend of the brand, on limited edition custom leather jackets for select retailers in the fall.
The Ternoskys, Lee, Hanaoka and the rest of the Obey team are also working hard to diminish its reputation as a "box logo brand," though graphic T-shirts in general are still strong sellers. But customers will find few, if any, pieces adorned with red box logos à la Supreme.  "That became something that was very detrimental to us," says Steve, who oversees Obey's marketing. "It no longer represented the lifestyle and culture and became a mark of status." While that design was the brand's best-seller among retailers, Mike and Steve made the executive decision to remove it from shelves. "In the heat of the battle, [stores] were beyond upset," says Mike. "But in retrospect, we wouldn't have the consistency of our brand."
Come fall, however, Obey starts fresh with its on-the-rise women's line. "I think the world is only getting to know the real culture of Obey that has always been around," says Hanaoka. "But for the first time, we are trying to showcase it a little more."
View Obey's lookbook for its fall 2016 women's collection in the gallery below.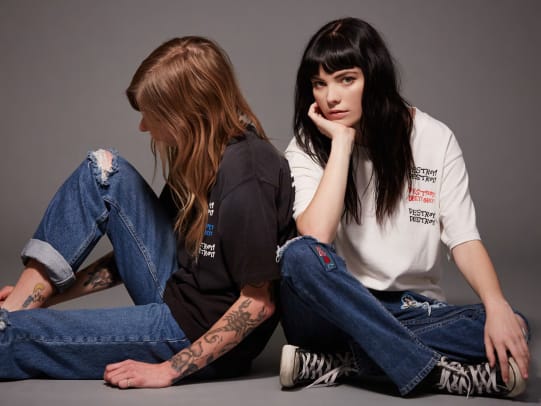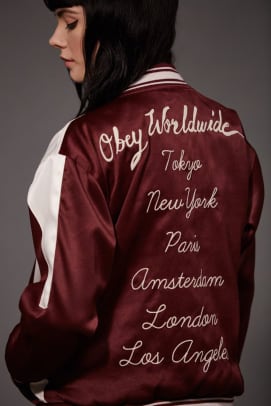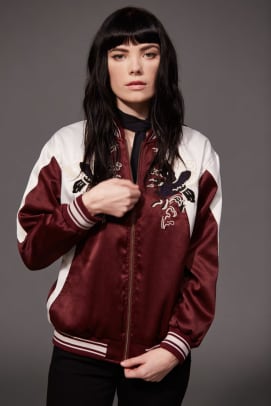 Want more Fashionista? Sign up for our daily newsletter and get us directly in your inbox. 
Update: This article has been updated with more details on the exclusive pieces in collaboration with American Two Shot, which originally mentioned products by Pin Trill.