Peter Copping Ticks All the Boxes for Oscar de la Renta Resort 2017
All the fabrics, textures and seasons were well-represented.
Creating a solid resort collection, I imagine, presents a lot of unique challenges for designers: It has to be wearable and appealing to buyers because it sits on sales floors longer than spring and fall collections; it has to be seasonally versatile and work for those in winter climates as well as those lucky people going off to vacation; and it still has to create visual interest for editors since designers are increasingly holding runway shows for this in-between season — some in far-flung destinations.
The Oscar de la Renta resort show, one of the first of the season, was on the low-key end of the resort spectrum and held at the brand's New York showroom, where small groups of editors were told to arrive at specific time slots. Designer Peter Copping's second resort collection for the house featured lots of daywear and shorter dresses, but it was far from simple. Fabrics and textures were patchworked together with abandon: a cardigan with panels of organza floral appliqués paired with a sequined tweed and lace trumpet skirt; a coat made with fur, tweed and fuzzy pom poms; lace, feathers and fringes arranged in tiers on a cocktail dress; and rich brocades accompanying all of the aforementioned fabrics on a number of garments. 
The silhouettes, however, were very classic, uptown, ladies-who-lunch. Skirts were tailored, mostly knee-length or longer, and often styled with a conservative cardigan or matching jacket. Coats were statement-making. My favorite pieces utilized the patchwork idea on monochrome dresses: a red frock with a knit bodice and tiered, pleated skirt; a black silk cocktail dress with long, sheer sleeves and pleated skirt; and a navy and black gown with tiers of lace that almost felt bohemian compared to the rest of the collection.
Towards the end of the presentation, Copping gave us the romantic evening gowns we were all waiting to see. And the busier, more embellished ones were just as unabashedly pretty as the simpler ones. 
In all, Copping's collection had a lot of options, color-wise, fabric-wise, occasion-wise and season-wise; but it still felt cohesive, and very Oscar.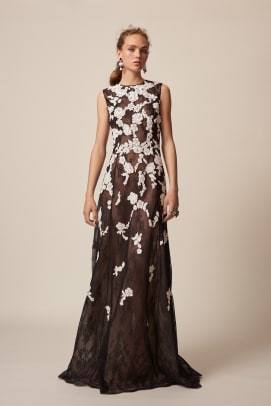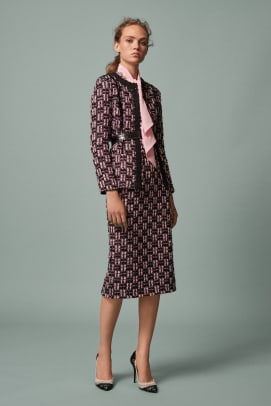 Want the latest fashion industry news first? Sign up for our daily newsletter.