Parsons Honors Donna Karan, Sarah Jessica Parker and the 2016 Graduating Class
Arianna Huffington, Kay Unger, Andy Cohen and many more were on hand at the annual benefit dinner and runway show.
"I finally have a Parsons table," said Sarah Jessica Parker at the 68th Annual Parsons Benefit on Monday night, holding the miniature table that marked the school's recognition of the actress's fashion influence. She was one of four women honored by the famed fashion school in front of a crowd of designers, executives, socialites and other groups of people whom I assume have deep pockets. In addition to thanking The New School's Parsons School of Design in her speech, Parker donated her time to the evening's action: Three people paid $10,000 each to spend a day shopping with her at Bloomingdales. 
Parker's and Karan's speeches were just items on the agenda, led by host Andy Cohen, before the students's runway show. Honorees Arianna Huffington and curator and Beth Rudin DeWoody were also warmly recognized, and an auction raised impressive scholarship donations through exotic vacations and one rare gold book. (Literally, a book of gold. Vladamir Putin has one.) Parsons also announced a $7 million donation from designer Kay Unger. 
Parsons graduate Donna Karan also took the stage to thank her alma mater, and revealed that she failed her draping class as a student and had to retake it during summer school.  "So, I'm a little obsessed with showing Parsons that they taught me how to drape," she said. In addition to thanking the students and professors who mentored her during school, Karan reminded the crowd that she's been ahead of the trends for decades. "After [Women's Wear Daily] killed me on the cold shoulder many years ago, it has finally hit the fashion trend," she said. Karan then turned to Urban Zen, a luxury brand and foundation she launched in 2007 t0 "dress and address people." She and Parsons partnered on a study center in Haiti where students can interact with the local Urban Zen artisans. 
Thinking back on why she started the company in the first place, Karan said: "I had this vision, that people are talking about today just a bit, about when the fashion shows should occur. I did feel we should start talking to our consumer. Instead of showing them all the clothes six months in advance, or seven months in advance. Why don't we talk directly to the consumer?" What was once a radical notion from Karan has become a mainstream fashion discussion, and one that has already impacted the industry Parsons's graduates are posed to enter. But on Monday night, such commercial concerns were secondary to concept, drama and showmanship. On the benefit runway, 30 students were able to talk directly to the A-list audience, and prove that the future of fashion is in their hands. 
The 2016 students winners are the following: Angela Luna and Jackson Wiederhoeft for womenswear; Ming Peng for menswear; Song Seoyoon received a VFiles mentorship; Angela Luna won an Eyes on Talents Innovation Award; and Ya Jun Lin and Tiffany Huang won the Parsons x Kering Empowering Imagination competition. 
 See the gallery below for our favorite looks from the Parsons Benefit runway show.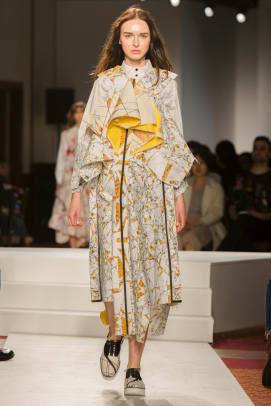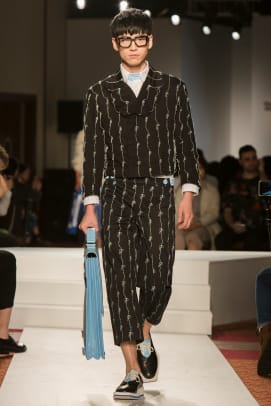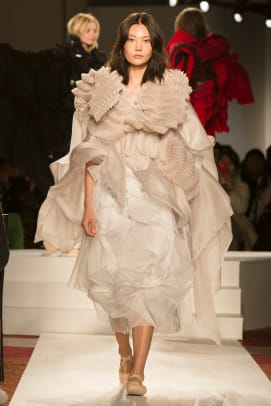 Stay current on the latest trends, news and people shaping the fashion industry. Sign up for our daily newsletter.