Romance Was Born Is the Most Exciting Fashion Brand You've Never Heard Of
But that's all about to change.
When the fashion industry talks about centers for exciting new talent, it's all about the avant-garde designers of London or the young up-starts of New York City. Perhaps that's how Australian label Romance Was Born has been flying under the radar for 10 years now, quietly producing and showing some of the industry's most forward-thinking collections in Sydney, a pricey 20-plus hour flight away from any fashion capital. 
All that is about to change. After a solid few seasons selling through Moda Operandi, Romance Was Born has been approached by Saks Fifth Avenue to sell on the retailer's new contemporary floor. And thanks to local buzz, their resort 2017 presentation was the one everyone in Sydney said was a must-see. Inspired by Liberace and set in an incredible private home on the water, the high-flash of the sequin-and-feather filled collection had everyone buzzing, as did the plenty of nod-and-wink styles (like a smoking jacket with sequined cigarettes and a silk cocktail dress with a literal cocktail print).
It's been a long time coming. Designers Anna Plunkett and Luke Sales met the old fashioned way — at fashion school (Sydney Institute of Technology), where they found a shared aesthetic while collaborating on projects. They entered the ITS#Four competition, an early iteration of the International Talent Support, and were offered internships with John Galliano. Not yet ready for a move to Europe, Plunkett and Sales returned home to Australia and started Romance Was Born in 2005.
From there, the brand has always grown organically, focusing more on slow-and-steady pacing and connection building over flash-in-the-pan buzz. "We didn't have the infrastructure to grow and finance," Plunkett explains. "We're the owners of the business and we're really involved, so we don't just sit around drawing. There's running the business, and making sure everything gets done on time, so it's a bit challenging, but that's why we're hoping to grow and get more people working with us."
Ten years on, though, the timing is finally right to pursue international markets. There's the Saks deal, which will bring them stateside in the next month (New York buyers and editors, make your appointments now), and goals of showing in Paris one day. ("I think Paris is where people might understand us best," Plunkett says. "You think of America and it's really clean and minimal.")
"We have our people here, and we're really comfortable with how it works, and it's about finding those people [abroad]," Plunkett says. "We're almost starting again as well, because we've grown up with the brand, and now we're totally different and it's the next chapter. We're going to do some rebranding, because it's been 10 years. It's just a natural progression, things change and you have to move on."
Of course, that doesn't mean they'll be abandoning the Australian fashion industry, which has supported them from the start; fellow Aussie designer Toni Maticevski introduced the duo to Moda Operandi, and the newly formed Australian Fashion Chamber helped support the brand's first showrooms abroad. "It has opened the rest of the world up — it sounds fishy, but it's true," Plunkett says of the AFC. "We just didn't have the opportunity or the contacts. It's small as well, so you have to look after each other."
They've got the celebrity support in place already too, counting fashion cool girls like Daphne Guinness, Miley Cyrus and Grimes amongst their clientele. In another show of Aussie solidarity, Cate Blanchett wore a dress of theirs for an appearance at the Sydney Theatre Company. While they understand the importance of red carpet dressing ("I think that's the hugest honor, when someone you look up to gets what you do and wants to go there as well," Plunkett says), they're not interested unless it aligns with the message of the brand. 
"I think the idea of celebrities wearing our stuff is not cool unless you're into the person," Sales says. (Dream client Bjork will be in town soon, though, and Plunkett and Sales already know which dress they would put her in — a multicolored feather number from the resort runway.)
"[We're about] the idea of wonderment and beauty," Plunkett says. "We just try and create stories, create emotion. We've always said we want the customer to want it and wear it because they're emotionally connected to it, not just to be cool or be sexy, those things that magazines tell people to do."
Whatever the future holds for Romance Was Born, it's clear the brand has already made its mark at home. "From the beginning we've been collected by art institutions in Australia, and I think that's really, really exciting," Plunkett says. "That's how we've discovered things, and to think we might be the next generation of creative force — that's pretty cool."
We're betting the rest of the world will catch up soon. See Romance Was Born's full Resort 2017 collection below.
Disclosure: IMG provided my travel and accommodations to cover Mercedes-Benz Fashion Week Australia.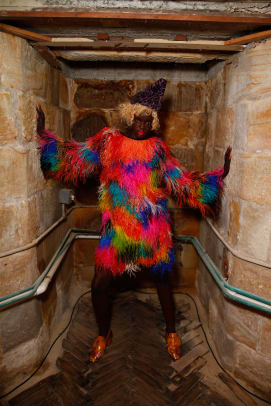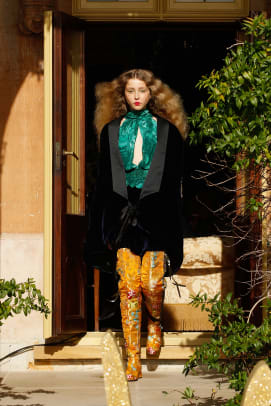 Sign up for our daily newsletter and get the latest industry news in your inbox every day.