Atea Oceanie and Man Repeller Team Up For The Brand's First-Ever Collaboration
British designer Laura Myers hopes the partnership will introduce the label to more American shoppers.
Atea Oceanie, a young brand known for its sleek combination of 90's minimalism and modern sportswear, and Leandra Medine, the founder of Man Repeller known for her maximalist style, have partnered together on a limited-edition capsule collection. It's the first project of its kind for Atea Oceanie designer Laura Myers, who was introduced to Medine years ago by publicists after the influential blogger-turned-site director saw the summer 2014 look book. 
"She started wearing the pieces, particularly one of the blazers, and I was just really inspired seeing [them] worn in such a different way, different to how I myself would put it together," said Myers on Tuesday. "But I really felt like it was getting to the spirit of the brand, this idea of women mixing back into their own wardrobe in a way that makes them feel great. It just seemed like a natural next step to reach out and start thinking about doing something together."  
Despite quickly becoming a celebrity favorite with such names as Kristen Stewart and Elizabeth Olsen, Myers has approached her brand's growth slowly and cautiously. However, she felt ready for a collaboration because she trusted Medine and felt like she had the right foundation of retail partners — Barneys, The Line, Ssense and more. Plus, Myers wanted to tap into Man Repeller's marketing powers. "Her wearing the collection really resonated with her audience, and sort of exposed us to a new audience that we weren't being exposed [to] through our own social media platforms or our own retail partners, and it just seemed like a very natural but easy mix," said Myers. "Obviously being based in London, our focus in the media has been here. We have had some great pickup in U.S. press, but Leandra's very known in the U.S., so it was really about expanding the brand in that market."
In the summer of 2015, Myers and Medine started discussing the fabrics and silhouettes they wanted to work with: a navy lamé suit, a bright red Mandarin collar oversized shirt, a striped cady slip dress. "Funnily enough, when we first started thinking about the collaboration, I think I had this swatch of the lamé fabric floating around the office and was thinking about how could we do that, but it just didn't feel like something that was naturally integrated to the core of the collection," said Myers. "And [Medine] was like, 'I'm thinking about lamé,' and I was like, 'Perfect, this is my opportunity.'" Myers was also inspired by the way Medine had styled an Atea Oceanie cream suit with a long robe-like shirt. "I'm so used to just wearing a suit with a T-shirt and sneakers," said Myers. "That's become one of the key looks of the collaboration."
The resulting seven-piece collection is on sale only on British e-commerce site Boutique 1 and through Atea Oceanie's own site, where only a selection is available. Is this just the beginning of collaboration in Atea Oceanie's future? "My approach with everything has been very step by step, so I'm quite curious to see how this goes and start thinking about what, and if, we might do [in the future]," she said. For now, Myers's focus is on e-commerce. "We've done a slight redesign of the site, and now that we've got some really great retail partners on board, I want to think about connecting with customers directly," she said. 
See the Atea Oceanie x Man Repeller limited-edition pre-fall collection in the gallery below.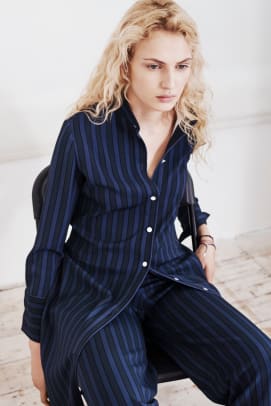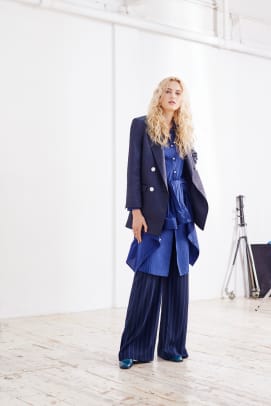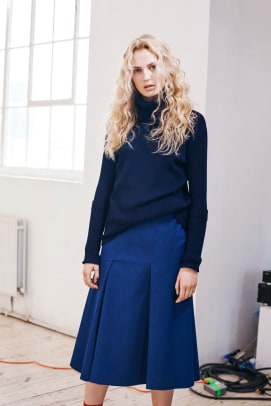 Want more Fashionista? Sign up for our daily newsletter and get us directly in your inbox.