Will Guys Actually Wear Demna Gvasalia's First Men's Collection for Balenciaga?
And does it matter?
It's been a long time since a designer built as much hype around a singular menswear collection as Demna Gvasalia has for Balenciaga. When the house announced in April that it had plans to stage its first-ever men's runway show in June, we knew we were in for something as unconventionally cool as what we've seen for both Balenciaga and Vetements in recent seasons.
And unconventional it was. On Wednesday in Paris, the spring 2017 men's collection came down the runway with a bevy of intriguing silhouettes that recalled the past as well as more en vogue trends. Gvasalia translated the boxy, oversized jacket silhouettes shown on Balenciaga's fall 2016 catwalk for male usage, employing shoulders so enormous that they brought Spongebob's defining squareness to mind. Models swam in giant, high-waisted pants, as if straight from the 1989 set of "When Harry Met Sally," but Gvasalia introduced the opposite — tighter, ankle-skimming trousers — too. Other elements like Hot Topic-approved wallet chains, inescapable during the women's shows in February, felt more contemporary, as did one raspberry red velvet suit we'll surely be seeing during a press tour or two later this year.
But will regular dudes wear this stuff — and does it even matter? When Gvasalia made his Balenciaga womenswear debut for fall 2016, the collection was widely praised for its wearability. With fluffy parkas and tweed suiting, that line was as fashion-friendly as it was versatile. This men's range, however, bordered on costume-y and with very little of the streetwear influence (baseball caps aside) that has made Gvasalia so established in the first place. Either way, the clothing is still sure to stir conversation, which is what the designer does best.
It's worth noting that three non-white models walked this particular runway, a slight uptick from the zero models of color Gvasalia cast in either of his runway shows last season. He can do better, and we have higher hopes for his women's shows this fall.
See all the looks from Gvasalia's debut Balenciaga men's collection below.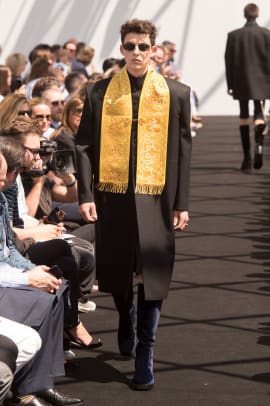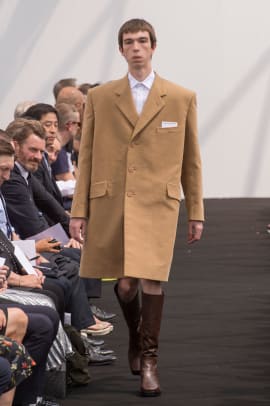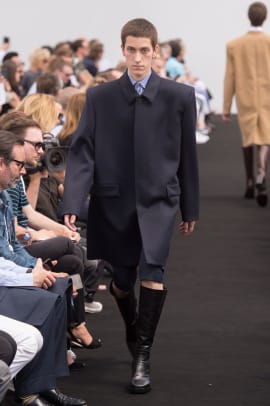 Never miss the latest fashion industry news. Sign up for the Fashionista daily newsletter.