How Being an Australian Designer Helped Dion Lee Build a Global Business
And why he's not ready to consider a "see now, buy now" model.
Hometown fashion hero Dion Lee had more to celebrate at Mercedes-Benz Fashion Week: Australia than his well-received Resort 2017 collection: there was also the opening of his latest boutique in Sydney's trendy Paddington shopping area. It's his third in the city, and fifth in his home country. 
"Being able to build our own environments, and for people to be able to walk in and experience the brand, I think that's important," he told Fashionista during a preview of the new space. "There is a technicality with the brand — our fabrications can be quite specific and the cut is very important — so being able to communicate that directly with the customer is really valuable."
After leaving Sydney to show for a few seasons in London, Lee brought his brand stateside in 2013, and has seen his business grow tremendously. "It's been really amazing in terms of opening up a new customer to us; both our domestic business and our international business have grown over the past few years," Lee explained. There's the aforementioned boutiques back home, tentative plans for one in New York ("We'd love to consider a store over there as well, so that may be the next chapter," he said), and celebrity red carpet placements on the likes of Cara Delevingne and Selena Gomez.  
As a member of the New York fashion scene, Lee has also been paying close attention to the "see now, buy now" conversation that's currently dominating the major markets. "We definitely can relate to why people are considering those changes," Lee said. "I think the customer is a little bit confused; you're always promoting one season with your runway show and then it's not available to buy." Of course, as a designer who sells through both wholesale retailers and his own stores, the challenges are much more significant.
"In terms of delivery schedules, people are now seeing that when things go on sale is when the seasons actually line up, which I don't think is really what is meant to happen," he explained. "It's interesting that people are approaching it from different ways, and it is something that we've considered, but we're not looking to change our model."
Perhaps he doesn't need to. Starting out in the opposite hemisphere from the rest of the fashion world means that he has always designed with a seasonless collection in mind. "There's always a sense of 'transeasonality' that runs through the collections of Australian designers," Lee said. "We are always conscious that there's a transeasonal base for each collection, and we layer in the heavier pieces. In Australia, it never really gets that cold — we sell coats and knitwear a lot more in the northern hemisphere — so we always have a bigger collection, and then it's edited in different ways."
For Resort 2017, that transitional element translated into both sleeveless and long-sleeved knits, or sleeveless blazers that could be layered over anything in a woman's wardrobe. Lee was inspired by the idea of glass, a less literal kind of lightness for resort. "Transparency, surfaces, this idea of texture and shape and silhouette — we extracted that into how the silhouettes felt kind of fractured and layered, and also within the textiles in the collection, so we did this crocheted glass crystal element," he said.
See Dion Lee's Resort 2017 collection in full below.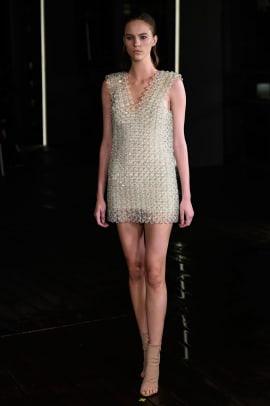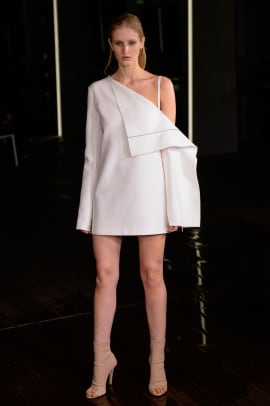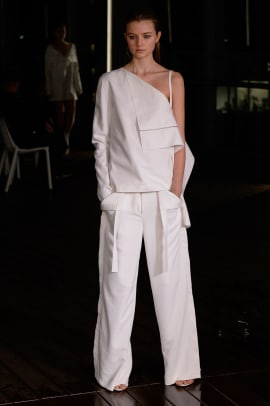 Disclosure: IMG provided my travel and accommodations to cover Mercedes-Benz Fashion Week Australia.
Sign up for our daily newsletter and get the latest industry news in your inbox every day.