How Samantha McMillen Dressed a More Grown-Up Elle Fanning for 'The Neon Demon' Press Tour
It's been a whirlwind few months for Fanning — who just turned 18, went to Cannes for the first time and graduated high school. Her recent looks reflect a new, more adult chapter.
Elle Fanning has been traveling around the world non-stop since her newest film, Nicolas Winding Refn's "The Neon Demon," premiered at the Cannes Film Festival in mid-May. (The film hits theaters Friday.) And right alongside her for much of the film's press tour was her stylist Samantha McMillen, who has been working with the younger Fanning since she was 13. And while the actress is no stranger to a jam-packed promotional schedule — see 2014's "Maleficent" — this tour marked a new chapter for the critically beloved actress. She turned 18 in April, went to Cannes for the first time in May and graduated from high school in June. "I was really happy and a little bit emotional watching it," said McMillen on Thursday. "As an adult now, you start to see things a little bit differently and you can try things that are slightly more mature and see how it fits and how it works and if you can carry it off. It's a different thing, a different mindset, and I think that she's ready for it and she's all in." 
In choosing looks for the press tour, she and Fanning considered a few key factors: referencing the movie (i.e. playing with glitter, sequins and lip, lipstick and heart motifs), choosing couture pieces with impressive workmanship (befitting the glamour of Cannes especially) and making sure everything felt "very Elle" (a little bohemian, always regal and ethereal). "Things that might be too princess-y for somebody else can work on her, because she's tall and she can carry it off and also has that sensibility about her."
McMillen said that the first dress Fanning tried on during fittings, the stunning Zuhair Murad she wore to the Cannes premiere, was the "ultimate" Elle Fanning dress. "I can't think of a dress that had more elements of her in it," she said. "It was appropriate for the movie and the occasion and she was also missing the prom and turning the evening into that for herself, because it encapsulated all of that." McMillen explained that since the premiere came at the end of the festival, she and Fanning were paying attention throughout to make sure that they didn't repeat something another actress wore. "It was nice, in a way, that we got to see the whole festival and see what everybody was wearing." 
After the premiere, Fanning changed into a mini Alexander McQueen dress. "The workmanship on everything that she chose was impeccable, everything had a specialness to it that you couldn't compare to anything else," said McMillen, calling out the party dress's hand-painted leather bustier. Fanning's Cannes photo-call dress, a long-sleeved ruffled Chanel mini, was another right dress for the right moment."It was also very Elle — it had an ease to it, a timelessness to it. I felt it was just perfect to be on the French Riviera in that moment."
After Cannes, McMillen focused on incorporating elements of the film into Fanning's looks. "The movie is about fashion and the modeling world and about beauty... We incorporated [those elements] into everything, where we could." But she also had options on hand to be nimble, just in case a premiere turned out to be in a small venue, or if the weather turned sour or if there were no cameras. ("You don't want to do a designer the disservice of having an outfit out there that didn't ever get photographed," said McMillen.) The Paris premiere was an example of an event that didn't require a big gown. Fanning wore instead a sequin-covered dark red Lanvin frock with matching heart choker, one of those little nods to the movie. "Elle has that beautiful long neck, and [the choker] completed the whole look and made it more special for her, and [it's a] signature for Elle to do something like that."
At the Los Angeles premiere, McMillen knew that there would be neon light backdrops and reflective rooms, so Fanning's dress needed to complement the setting. "We wanted the dress to be something that would catch the light and would be really special and glittery and shiny and work with the theme of the night," she said. Fanning's sparkly floral sequined Dolce & Gabbana dress certainly stood out amidst the flashing colored lights. 
As for the soft pink, ruffled, one-of-a-kind Gucci gown worn to the final New York premiere — McMillen said she and Fanning were eyeing that one early. "We felt like at the end of all the glitter and the shine and all that stuff, it was nice to end with something beautiful and romantic and very much Elle, with the fresh flowers in her hair and just the easiness of it," she said, adding that it recalls the soft sea foam green dress Fanning's character wears at the end of the movie. "It reminded me of the same simplicity... I wasn't trying to recreate it but in thinking about it [now], that's how the movie ended and that's how the press tour ended." 
Looking back on the five years they've worked together, and considering that Fanning is now an adult, does McMillen see an evolution in the actress's style? Fanning is conscious that "she starts certain trends," but her fascination with fashion has always been strong, she said. "She doesn't want to wear the same thing that everybody else is wearing," said McMillen. "She has always had a knack for seeing and picking out pieces that are intrinsically her, but also unique to what anybody else would choose in a particular situation and she generally knows what's going to look good on her and what she can pull off." Indeed, Fanning's love of fashion is apparent on the red carpet — you can see that regal ease that McMillen described on her face. "It's really a collaboration and a team effort," she added. Another press tour down, and surely many more to come. 
See Elle Fanning's "The Neon Demon" press tour looks in the gallery below.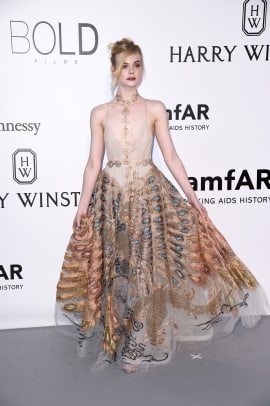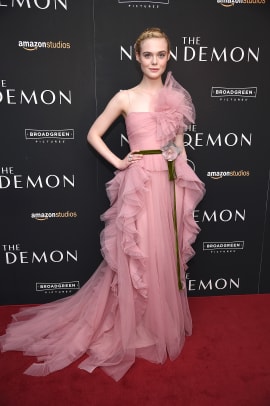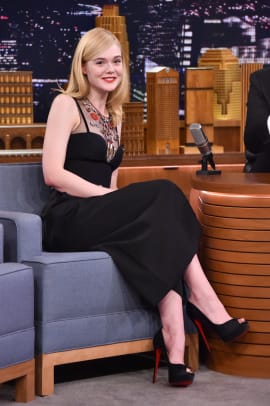 Stay current on the latest trends, news and people shaping the fashion industry. Sign up for our daily newsletter.